Many businesses work based on credit. When customers or clients place an order on credit, they buy items and products from the seller and the seller allows them to pay him later. The credit limit is specified by the seller of the product. This process helps the trader because, with this, he can know how he can schedule the payments to pay off the loan. At times, it becomes impossible for the trader to buy products from the seller with a specific credit limit. In that situation, he will have to write the request letter to the seller asking him to increase the credit line.
Importance of writing the request letter to ask for an increase in credit limit:
Whenever you want to get an increased credit limit, you are required to request a written formal letter. This letter serves as proof that you have written a request letter and that why you need the increase. Through this letter, you will be in a better position to talk to the recipient and clear your position to him. You can tell the recipient that you have always been so punctual in terms of making the payment. This will let the recipient know about certain aspects that he might be ignoring before.
Writing tips:
Here are a few tips that you need to follow to write a letter in such a way that it can persuade the reader to accept your request.
Give reason:
When you are asking the recipient to increase the credit limit, there must be some reasons behind it. It is important to mention the reason. The bank will think of increasing the credit limit of a person if his record of returning the money is good and he holds a genuine reason to ask for it.
Write objectively:
It should never be forgotten that you are writing to the bank manager who is not your friend of any relative. Therefore, your letter should be formal. Formal letters are usually more objective and they communicate all the information in such a way that it reaches the intended person giving its true meaning with minimum length.
Stay to the point:
Some people believe in writing the background of the request they are going to make. They don't directly get to the point. This act sometimes irritates the recipient. Therefore, you should come straight to the point while you are requesting an increase in the credit limit.
Show your positive side:
There are chances that the bank might have not considered your good credit history. Tell them about it and score some points.
Sample letter:
Date:
Mention the name of the bank manager
Mention the name of the bank
Subject: Request to increase the credit line
I have been using the credit card of your bank for more than 3 years. I have a good record of paying all the bills on time. Due to this, the bank has declared my bank account as a most punctual account. Based on this record, I would like to request you to increase my credit line.
I am starting a new job at ABC Company and my job requires me to travel more than usual. I know that my company will sponsor my travel expenses but there are so many such expenses that I will have to bear from my pocket. I apprehend that I would fall short of money if I used a credit card for this purpose. Therefore, I am in dire need to get an increase in my credit line. I am attaching a list of all my expenses in an attachment with this letter.
You can check my record to know that while traveling, I use my credit card extensively. My credit limit is often exhausted and I don't feel comfortable traveling with cash as it is not safe.
I have submitted all the documents that you need to know if I deserve to get an increased credit line. I would be highly obliged if you accept and process my request at your earliest convenience.
Regards
Sincerely,
Name of the lender.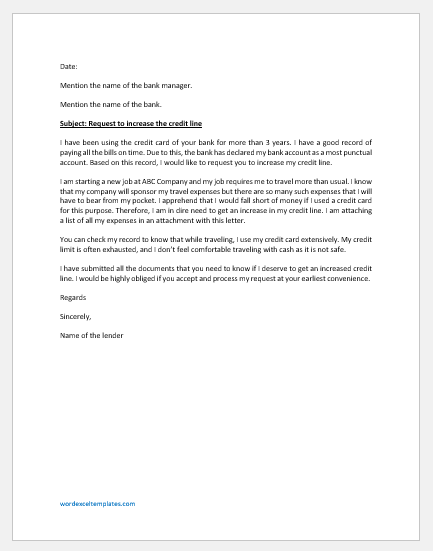 File: Word (.docx) 2007+ and iPad
Size 21 Kb
Download
---