We all apply for credit because we often need money and it becomes impossible for us to survive without a loan. However, it is not easy to get a loan. There is so much that goes into it. You have to go through a long process and then we get loan approval. The loan is not always in the form of cash. Some people also do car and home financing which is also a type of loan. At times, the creditor denies giving a loan and this is where the actual problem starts.
The loan application gets rejected generally when the credit history of the applicant is not good. If the loan application is rejected because of this reason, it ruins the reputation of the applicant. Additionally, another reason for the denial of the loan application is not meeting the eligibility criteria of the loan. No matter in which situation you are, you have a right to ask the creditor as to why he rejected your application.
What is an explanation request letter?
If you are sure that you don't deserve to receive a rejection based on not meeting the eligibility criteria or not having an up to the mark credit history, you can write the letter to the creditor asking him to explain why your application has been rejected. This letter is a useful piece of writing because it eliminates lots of confusion.
What is the purpose of the request letter for an explanation?
This kind of request letter is not written because the applicant wants to have a dispute with the creditor. Rather, this letter is written so that the applicant can know that on what basis his application has been rejected and how he can prevent this from happening again. When an applicant comes to know about the reason for the denial, he can easily work to remove those reasons so that when he applies for the loan next time, he does not have to face the same situation again.
How to write the request letter for an explanation?
Many people think that writing a letter asking for an explanation is a bit rude. This is the reason, they don't write. However, if they know how to write an effective request letter, they will be able to reap benefits. Considering this, we have some tips for you to follow:
You should start this letter by informing the recipient that you have received the letter in which you have been informed that your loan application has been rejected.
Tell the recipient that you have a good credit history and your income is also not too low to not get the loan approval.
You can inform the recipient that you did not deserve to get a refusal in response to the loan application. Also, explain your apprehension regarding the entire situation.
Politely ask the reader to give you an explanation that what was the cause.
Close the letter by telling the recipient that you are looking forward to his reply.
Sample letter:
Date:
Details of the recipient
Name
Contact details
Address
Subject: Request for an explanation for denial of credit
Dear Mr. ABC,
I received your letter and came to know that you have denied my application for due credit. The reason that you have mentioned in your denial letter is my poor credit history. I want to bring this to your notice that I have never been late on my payments. I have always paid the full amount within the specified timeframe.
I believe that there must be some mistake in your evaluation or you might have mixed me with someone else. There might be a chance that the credit history you own of mine is incorrect. Considering all this, I would like to request you to reconsider my application and give me an explanation as to what has happened with my credit history and why the information based on facts could not reach you.
I am looking forward to hearing your kind reply. I hope that you will reply to me soon with an explanation. In case you any other query in your mind, please let me know.
Regards,
Sincerely,
Name of the sender
Signatures
___________________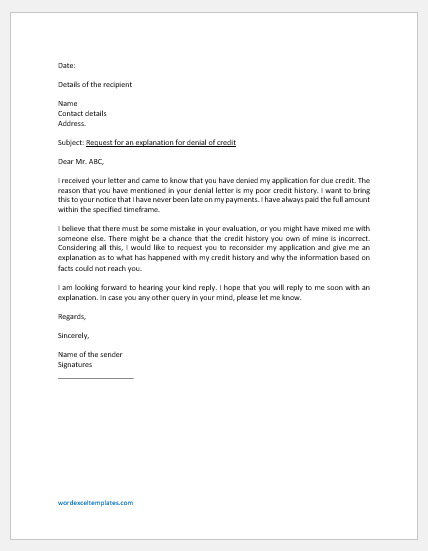 File: Word (.docx) 2007+ and iPad
Size 21 Kb
Download
---