What is a request letter for change in time?
A request letter for change in time is a letter that one may write if they need someone to change the time of say an important interview or meeting, for instance.
The case may arise that you have an important interview, but at that same time you have another important activity, for instance, your wife may be getting an operation at that time.
This letter needs to be written carefully as it is an important letter. This is because you may most probably be asking someone to change something that is important as an interview. You need to adopt a formal tone for the letter and write it politely so that your request may be considered.
Tips to write the letter
If you want you can email the management or inform them via phone if you want to request them to change the time of your interview.
If you chose to write a letter you can start off by typing the address of the company.
After some space, you can write the subject of the letter.
Leave some space and address the letter to the individual concerned. If you know the name of the person, you can write this here.
Start by informing them that you got an interview notice. State which position you applied to at their prestigious company. Tell when you got the notice. You can also tell them when your interview is scheduled for so that they have complete information.
You can then in the same paragraph explain why you are requesting them to change the time.
In the next paragraph apologize for requesting the cancellation along with rescheduling.
Request them to change the timings of the interview and how you will be waiting for their response.
You can end with "Yours Sincerely" and then type your name and sign the letter.
From the above, it can be deduced that a request letter for change in time may be an important letter depending on what activities' timings you are requesting a change in. Therefore, this letter needs to be written appropriately.
Request Letter for Change in Time of a Meeting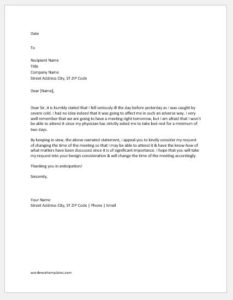 Dear Sir, it is humbly stated that I fell seriously ill the day before yesterday as I was caught by severe cold. I had no idea indeed that it was going to affect me in such an adverse way. I very well remember that we are going to have a meeting right tomorrow, but I am afraid that I won't be able to attend it since my physician has strictly asked me to take bed rest for a minimum of two days.
By keeping in view, the above-narrated statement, I appeal you to kindly consider my request of changing the time of the meeting so that I may be able to attend it & have the know-how of what matters have been discussed since it is of significant importance. I hope that you will take my request into your benign consideration & will change the time of the meeting accordingly.
Thanking you in anticipation!
Request Letter for Change in Time of an Interview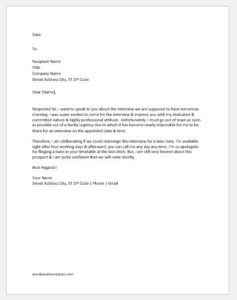 Respected Sir, I want to speak to you about the interview we are supposed to have tomorrow morning. I was excited to come for the interview & impress you with my dedicated & committed nature & highly professional attitude. Unfortunately, I must go out of town as soon as possible out of a family urgency due to which it has become nearly impossible for me to be there for an interview on the appointed date & time.
Therefore, I am deliberating if we could rearrange this interview for a later date. I'm available right after four working days & afterward, you can call me any day any time. I'm so apologetic for flinging a twist in your timetable at the last-ditch. But, I am still very fervent about this prospect & I am quite confident that we will unite shortly.
Best Regards!