A conference is very important part of every person's job. Conferences are conducted in almost every business and their purpose is to deliver the important points to everyone working in the company.
Sometimes, it is mandatory for an employee to attend the conference. When he does not attend due to any reason, the employee asks him to give an explanation.
The employee then writes the regret letter that also serves the purpose of explanation letter. The regret letter can be written even without having been asked to write explanation letter.
When the conference is conducted in an organization, every employee is expected to attend it. But if due to any reason he could not attend, he writes the regret letter.
What is regret letter?
A regret letter is a type of rejection letter. When you are not able to attend the conference due to any personal reason, you can write the regret letter to let the reader know that you will not attend the conference.
What is the format of writing the letter?
It is important to follow the right format and all the instructions while writing the explanation letter.
The best way to write the explanation letter is to keep it brief and to the point. Start the letter by thanking the reader for inviting you to the conference.
This will make the reader feel that you have acknowledged their action. After thanking, deliver your rejection.
Write the reason for not being able to attend the conference. It is not compulsory for you to describe the reason in the letter. However, writing the reason will strengthen your relationship with the reader.
You can also request for rescheduling of the conference.
If you are working in a company and it was compulsory for you to attend the conference, then you should write this letter by apologizing. Sometimes, the absence from the conference is unpredictable. When the employee misses the conference due to an emergency, he can send the regret letter instead of asking the employee for permission to go on leave.
Sample Letters
#1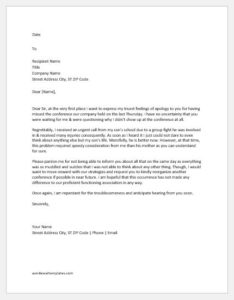 Dear Sir, at the very first place I want to express my truest feelings of apology to you for having missed the conference our company held on the last Thursday. I have no uncertainty that you were waiting for me & were questioning why I didn't show up at the conference at all.
Regrettably, I received an urgent call from my son's school due to a group fight he was involved in & received many injuries consequently. As soon as I heard it I just could not dare to even think about anything else but my son's life. Mercifully, he is better now. However, at that time, this problem required speedy consideration from me than his mother as you can understand for sure.
Please pardon me for not being able to inform you about all that on the same day as everything was so muddled and sudden that I was not able to think about any other thing. Though, I would want to move onward with our strategies and request you to kindly reorganize another conference if possible in near future. I am hopeful that this occurrence has not made any difference to our proficient functioning association in any way.
Once again, I am repentant for the troublesomeness and anticipate hearing from you soon.
#2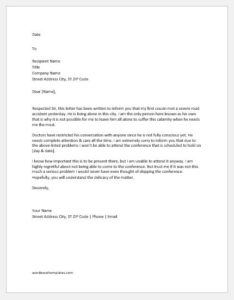 Respected Sir, this letter has been written to inform you that my first cousin met a severe road accident yesterday. He is living alone in this city. I am the only person here known as his own that is why it is not possible for me to leave him all alone to suffer this calamity when he needs me the most.
Doctors have restricted his conversation with anyone since he is not fully conscious yet. He needs complete attention & care all the time. I am extremely sorry to inform you that due to the above-listed problems I won't be able to attend the conference that is scheduled to hold on [day & date].
I know how important this is to be present there, but I am unable to attend it anyway. I am highly regretful about not being able to come to the conference. But trust me if it was not this much a serious problem I would never have even thought of skipping the conference. Hopefully, you will understand the delicacy of the matter.
Thank you!