The human resources department in any organization plays a role in dealing with the salaries of the employees. If there is any problem pertaining to the salary of any person, they communicate their problem with HR.
As a matter of fact, the calculation of the salary of an employee is a critical process. There goes so much into it especially when the staff is big. Due to this, it is very common to see problems and errors in the salary. Seeing an error is not a problem. However, it becomes a big problem if you don't know how to communicate with the employer.
What is a reply letter to HR for salary deduction?
It is a response letter that an employee writes to the human resource department in response to the letter he/she received from HR. When the company comes to know that there was some miscalculation due to which, an incorrect salary was sent to the employee, the HR writes a letter to the employee to confirm that there was an incorrect reduction and the company is ready to compensate him for the loss.
How to write a response letter?
When you write a response letter, you need to remember that you are a professional person and you know how to communicate efficiently. Some tips to write an effective response letter are:
Keep calm:
For some people, receiving a letter from HR sending you an incorrect salary makes you angrier as you feel that you have been causing inconvenience and the company should have been careful while sending salaries to their workers for work diligently. However, you cannot be rude or unprofessional. It is important to keep calm and stay polite in the letter.
Inform the employee that you understand the mistake:
Sometimes, the employer wants to know whether you have understood the problem that was caused by the system of the company. You can let HR know that you understand that it was a mistake and you also understand that people make mistakes and it is very common. This lets the HR see flexibility in your personality and they are also likely to cooperate with you in the future.
Outline your expectations:
You must be expecting HR to add the missed payment to the next salary so that you can be compensated. Although HR knows it, it is better to communicate your expectations to avoid further delay in the compensation.
Express gratitude:
It is important to be thankful to HR for taking quick action on your complaint of reduced salary transfer and then admitting to committing the mistake because very few people dare to admit that they have made a mistake.
Read the letter from the HRM carefully:
Whenever you have to write a reply to an email or a letter, the first step is to read the text that requires your response. If the reply involves emotions to be expressed, make sure that you process your emotions before you write a reply. You should be careful as to what you say and how. Therefore, reading the letter carefully will make you write a letter that the human resource department has expected to come from you.
Why is it important to write a response letter to HR?
At the workplace, it is very important to communicate with others as it leads to effective resolution of issues. Communication also plays a big role when you want matters to be handled quickly and easily. Therefore, whenever HR reaches out to you for any purpose, you should always respond.
The HR writes the letter with the salary reduction mistake in response to your complaint letter. So, you should be quick enough to respond to HR quickly so that the matter can be closed. However, it is important to make sure that your letter is in line with the letter or email you have received from the HRM. If the HRM has asked any question you, must answer it in the response letter.  You cannot simply write one letter to HRM and send it away in every situation. For a better understanding, go for a sample letter.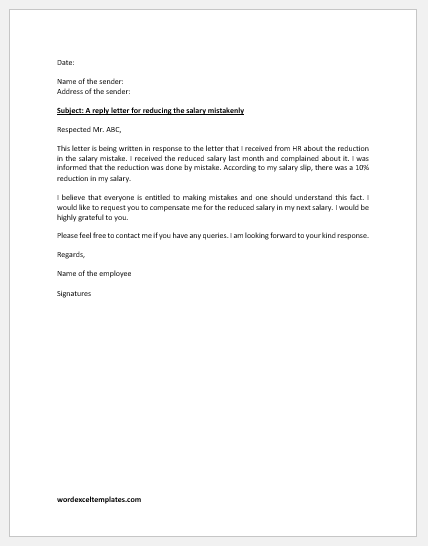 File: Word (.docx) 2007+ and iPad
Size 17 KB