Quite sometimes, on account of multiple reasons, a project head may feel the urge to hand over the project from one team to another. There could be a plethora of reasons working behind it, namely the current squad not being able to draw the right results, the most significant one. Or the direction your relevant employees are while executing the project could be different than you imagined. When not dealt with the right protocols, such a challenging situation can be embarrassing for the head. Henceforth, we are assisting you with the right approach to address the issue.
Foremostly, as a person with the relevant authority, you should sit down with at least two more people with at least the same designation, if not higher, with enough exposure and experience to discuss the problem. A thorough discussion with the current and upcoming team about what has been done on the project so far, with all the strategies and aspects, touched, and how close it is to the goals can reap benefits. The current team could be given 1-2 weeks to complete the ongoing phase if it is in the middle of nowhere yet.
If you have another party working with you besides your current team, you must inform them of this change and take them into confidence on why it was crucial for the project. Introducing your new project manager and the team is a significant plus.
Since seeing your project being handed over to another team can be quite difficult for the old team, the new group also gets under pressure due to high expectations and the risks of failure. So, it will turn out to be productive if the project head graciously meets the new team. This will eliminate the disturbance caused by the work dynamics of the project. Keeping the record and objectives straight and embracing the new members will further decrease the confusion. The team will feel welcomed and ready to work with high morale.
Now when basic things are done, you can make things formal and legal by writing a letter to the relevant parties informing them of this change.
Make sure you state only the facts restraining from any notion of humiliation and prejudice.
Sample Letter
Dear Mike and team,
I have gone through the status update on your current project (name of the project), and I am afraid the board believes the approach taken to execute this project will not produce the desired results.
We highly appreciate the hard work you have done alongside your team so far, and we genuinely reckon that. However, it is only in the company's best interest to transfer this project to another team. You can complete the current phase before handing it over to team B.
I would also take this opportunity to state that this, by no means, is personal or with any biases.
I hope you will understand the situation and cooperate with us. Should you have any queries, you may write me back.
Sincerely,
Project Head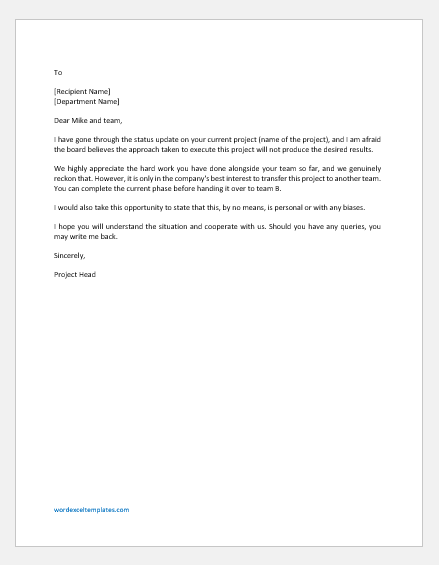 File: Word (.docx) 2007+ and iPad
Size 18 Kb
Download
---