Irrespective of who you are and where you work, you are ethically and officially bound to respond and confirm various details with the relevant parties and people. Such confirmation is done through a designated official document aptly known as a confirmation letter in formal settings.
Such a letter has various types, out of which a project confirmation letter is the most famous. It is used widely in professional and business realms and is considered an essential form of communication and confirmation within organizations. Big businesses and companies are likely to advertise their needs for an agency to complete their projects on well-known platforms.
Systematically, the response to such advertisements is made in the form of project proposals submitted to the company by reputed vendors and service providers at your consideration.
After a thorough overview of all the proposals, the company selects the most suitable agency to carry out its project and fulfill all their demands. The proposing party is intimated of their selection to complete the project by the company through a confirmation letter with all the details about the project.
As someone who holds some prestige and authority in a company, you can be the one asked by the boss to write such a letter of project confirmation to your vendors. Besides intimating the addressed party of their selection, you can also add some additions requirements or details about the project for their consideration.
An information letter may also be inclusive of the process of vendor selection for the project so that your addressee may feel good about being selected under a transparent standard. Here is a sample that you can alter as per your needs if you need to write a project confirmation letter:
Sample Letter
To,
[The addressee's name and address]
Subject: Confirmation of your selection for our project named XYZ.
Dear Sir / Madam,
It is with the utmost sense of pleasure that we are writing this letter to you to confirm you as our officially trusted agency for the project that we endorsed a few days back. We want to thank you for your patience as choosing the right candidate for this project was a difficult task and took us a lot of time.
It should be a matter of immense pleasure for you that, after looking at more than 200 proposals, our higher authorities have confided in your services. We also confirmed to you for a project that all of us at the organization hold very dearly and are looking forward to experiencing significantly.
We would like to congratulate you and hope you will be able to precisely come up with what the company expects of this project. We would also like to request you to get in touch with our HR department so that we can officially sign some documents together and decide the time for your upcoming meetings with the company's authority for this project's timely completion.
I was hoping for a response from you soon.
Regards,
Communication Manager,
[Organization's Name]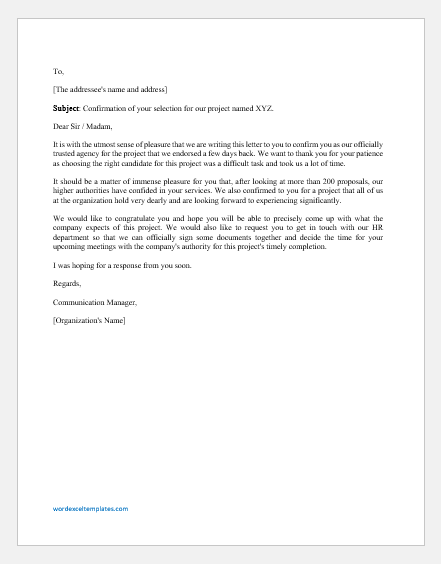 File: Word (.docx) 2007+ and iPad
Size 18 Kb
Download
---