An endorsement letter is written by a company or organization to solicit and support a project or cause of another corporation/organization or institution. The purpose of such an endorsement is to authenticate the necessity of the project and cooperate in executing it.
From a company endorsing another business' project, it is interested in collaborating for mutual benefit to organizations backing up causes of various movements with shared philosophies, the scope of endorsements varies. Mostly, endorsement letters are not sent by individuals unless a person is withholding certain power to do so.
When things are big scale and corporational, interested parties have to make their motives official by adhering to professional etiquettes and write letters of endorsement with the right protocol. While crafting such a letter, a company/organization should keep the following points in front of it.
The letter should start with appreciation, reckoning the project's significance and its impact on the community.
Make the intentions clear; any ambiguity can lead to misunderstandings on the interested party's motives.
Share relevant ideas to expand the profit and convince how the collaboration can be of any benefit to both parties.
The tone of this letter should not be overwhelming or careless but confident. Having a theme of simply conveying how the endorsement is profitable for both companies should be persuasive enough.
In case you have to draft this letter to an organization working on a cause with valuable impact on the community or for the welfare of society, demonstrating a little warmth can convey your sincerity and truthfulness towards the cause for in such a context, this is the most substantial concern. Oftentimes, politicians or political parties opt for writing a letter in favor of another party's move too.
Sample Letter
To Whom It May Concern
On behalf of [interested company/organization's name], we are genuinely pleased to learn about ABC's [name of the company you are making the endorsement for] project [project's name] for the empowerment of indigenous women. It is only the demand of the hour to provide equal employment opportunities to women by teaching them the right digital skills. Henceforth, we [interest party's name again] are truly appreciative of this measure, and we would like to offer tremendous support for this cause.
With our skilled and top-notch team of relevant professionals, we propose a shared space and resources with your team to pursue this noble cause in a best-organized way. Together, we can reach a milestone and repay our community.
The [again the offering party] expects/demands nothing in return. This is only a good-will gesture to the company we have great corporation relations with for decades in this small town.
If you are interested in lending your support in our endorsement and approve of it, please accept our sincere gratitude.
We look forward to hearing a promising response soon. Should you have any queries to discuss, please feel free to call us at 000-000-000 or email at [email].
Sincerely,
ABC
[Designation]
[Signature]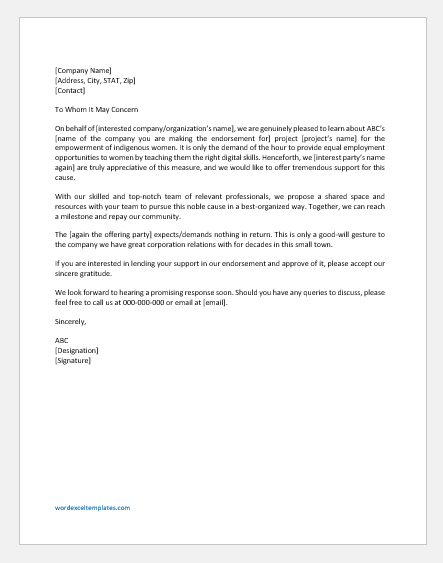 File: Word (.docx) 2007+ and iPad
Size 19 Kb
Download
---