Suppose you are a well-reputed organization or agency offering services of various kinds to bigger businesses and organizations. In that case, there is a high chance of you being contacted personally by the companies for their projects before they advertise tenders for it. Such contact is usually formal, with the company explaining their needs from the project and requesting you to work on it through an email or official letter.
If you want to take up the project and consider yourself adept enough, you must intimate the requesting organization of your acceptance of the project. This can be done through a formal written acknowledgment letter that assures the proposing company of your receipt and readiness to work on the project.
You can also express your thankfulness to the proposing party for their confidence and trust in your services in your project acknowledgment letter. Furthermore, you can add details about the progress and decide the meeting time with the company's authoritative stakeholders for further discussions and documents related to the project's completion.
As someone who holds the relevant position in a company, your boss may ask you to write a project acknowledgment letter. Here is a sample that you can follow in such a case:
Sample Letter
To,
[The addressee's name and address]
Subject: Acknowledgement letter for your project named XYZ.
Dear Sir / Madam,
I hope this letter finds you well. Let us start by expressing our gratitude for receiving your order for the project titled "XYZ." We want to assure you of our best possible efforts that we will extend to complete your project in time and in the way you want it to be. Please treat this letter as our acknowledgment regarding the acceptance of your project and all its requirements.
We would like you to know that we have thoroughly gone through all the documents and requirements you sent our way. We have also forwarded your needs to the team entitled to manage your project and stakeholders. They will soon be formulating a detailed proposal plan along with the proposed timeline, budgetary requirements, and the problems or hindrances that are there in the project and need to be followed.
Rest assured, as this process can take up to two weeks, and we will surely try our best to speed up and respond to you as soon as possible. In the meantime, we would like you to send a 2-3 page document, if possible, elaborating a more on your expectations, needs, desires, and suggestions regarding the project for further clarification of our stakeholders and project managers.
Our team members will surely contact your HR department soon to discuss and set up a flexible meeting schedule for a further procession of the task. You can contact us anytime for clarification or alteration that you may need for your project's plan or any other purpose.
Again, thank you for putting your trust in our services. We will try our best not to let you down.
I was hoping to have an excellent working relationship with you.
Regards,
Communication Manager,
[Organization's Name]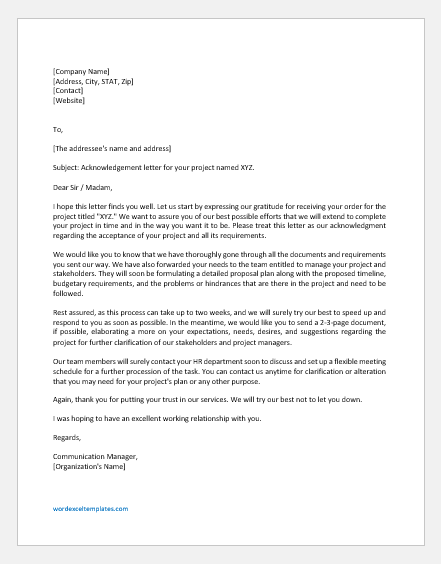 File: Word (.docx) 2007+ and iPad
Size 21 Kb
Download
---