One of the major ways to keep your employees and subordinates working with high morale and spirits is encouragement. Organizations that appreciate their employees' work thrive by leaps and bounds and those who don't either end up bankrupt or remain at the startup level their whole career.
Appreciation not only grows a company's chances of profit, but it incites devotion and dedication in the workers for better teamwork and individual responsibilities. This appreciation does not necessarily have to be in the form of bonuses or extra paid leaves as an employer can't always afford it.
The aim of a project appreciation letter is to acknowledge an employee's contribution and service to the company and push him to maintain it. If your workers have done an amazing job in the execution of a project, it is pivotal to reckon their efforts as they're the reason your company is getting more clients. Executing a project is a hard nut to crack as compared to ordinary everyday responsibilities because it requires specialized mechanisms, the right approaches, and methods, and crafting the most suitable ones cost a lot of energy. A big-scale project has the potential to drain the employees completely.
Henceforth, opting for a project appreciation letter will result in a win-win situation for both the employer and the employees.
Now, while you make a draft for this letter, make sure you are not going out of your professional decorum only to appreciate your employee. No matter how big of a win the project got you, there's always a protocol to express your gratitude in the most professional way.
Nonetheless, this should not stop you from giving employee's rights of appreciation due to him. Following is a draft on the subject "project appreciation letter" to give you an idea on how to craft one.
Note: All the details are subjected to change as per the requirements.
Sample Letter
Sam Nomad,
Project Head, (mention employee's designation)
XYZ Solutions, (mention your company's name)
Dear Sam,
The department is writing this letter to you with the utmost happiness to convey our satisfaction and contentment on your performance that you showed during the project (mention project name). We have been observing your strategies and methods in executing each milestone of the project and it made us proud of our choice for assigning this project to you.
Your mannerism with your teammates is also worthwhile and we are convinced that you are a great team player.
Admittedly, the nature of this project was critical and challenging and the restrictions with regards to budget and timeline could have been a great hindrance, but you proved your professional competency by overcoming all these limitations.
With the contributions and dedication of employees like you, the company is growing fast. We hope you will continue to work in the same high spirits and take this company to another height of success.
Sincerely,
Adam Joe,
The Department of Marketing (your designation)
XYZ (company's name)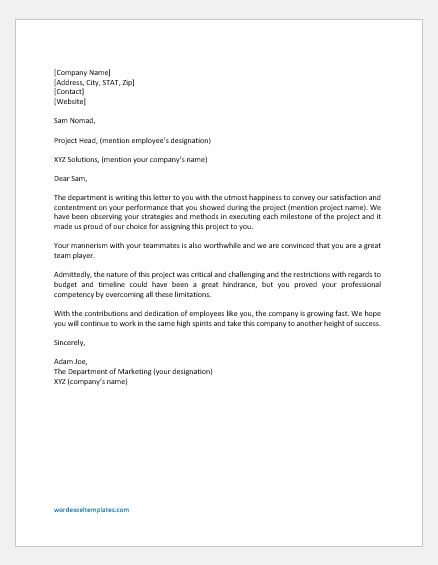 File: Word (.docx) 2007+ and iPad
Size 21 Kb
Download
---