A project reference letter is crucial to any company's growth and reputation. In simple words, it is like a testimonial that strengthens the portfolio of the organization and authenticates its credibility.
Sometimes a company assigns its project to another company/client that provides the relevant services. Upon the completion of the project, it writes them a reference letter mentioning that the company B has performed up to mark and won the satisfaction of company A. The details and nature of the project are also written in the letter, so it is clear what kind of services the company, being talked about, provides.
This letter could be written to an individual client or a freelancer that'd work as his testimonial and help him pitch for better gigs.
Given the significance of the project reference letter, one deliberately should be careful about the minute details while writing it. Ignoring small details won't hurt you but mentioning the positives of the client in the execution of the project will boost up his credibility.
Not only a productive result is evidence of a company's good performance, approaches and methodology play a huge role too. In big-scale corporations, the measurements taken to successfully complete the project are equally important. Henceforth, you may also give the due credit to the company that worked on your project with regard to its practical strategies and cutting-edge technology.
Make sure the tone of your writing is factual, to the point and without any biases. If your letter reflects any level of prejudice or favor, not only your clients but your integrity will be badly hurt.
Sample Letter
To,
ABC Solutions, (client company's name)
Subject: project reference letter
Dear Sir,
ABC Solutions was the project manager for the Markfield Children's Hospital (mention your project name here) to successfully complete the building (mention the major objectives of the project) within one month's duration keeping all our requirements in context. The project is located at Markfield District in Auckland (mention the area of your project).
We are delighted to write that the design of the building is up to the mark and the material used in its making is of good quality. We confirm the interiors of the hospital according to the needs and requirements of the law. The play area made for children is made to keep the safety of kids as a priority.
ABC Solutions genuinely reckoned our goals and committed to foster the same objectives. Our limited timeline could have been trouble in the framework, but the company's competent performance was adequate to finish it quickly within our budget.
I was impressed with the quality of skills alongside the corporations the team members of ABC Solutions have.
Having a phenomenal experience with ABC Solutions, we look forward to working again in the future with the company. We hope you will take confidence in assigning them your project. Should you have any queries, feel free to contact me at [email].
Sincerely,
John McDonalds,
Project Manager,
Chief Executives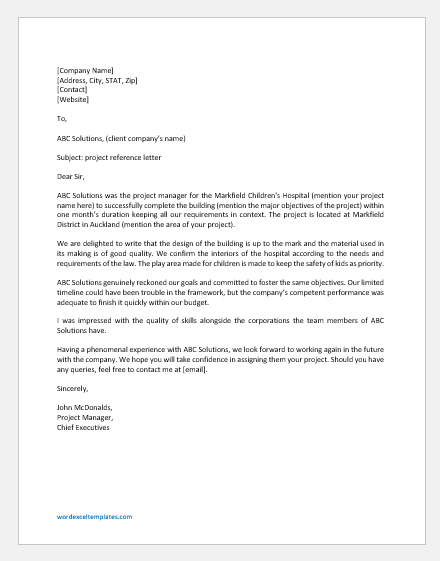 File: Word (.docx) 2007+ and iPad
Size 20 Kb
Download
---