What is the permission letter of travel with a minor?
It is a letter that parents or guardians of a minor write when they want to allow someone to travel with their child. At times, the child has to travel to some places without their legal guardians or parents. This happens when parents are not available to go with the child due to many reasons. When this happens, parents have to send their child with someone they trust. They usually write a permission letter in which they allow the person accompanying the child to go with the child.
What is the purpose of writing the permission letter of travel with a minor?
The basic purpose of someone to write this letter is to allow a specific person to accompany their child. It is a kind of legal permission that a person needs when he has to travel with someone's child. In general, it is illegal for a minor to travel with someone who is not his/her guardian. The person with the child has to face serious consequences if he is unable to prove that he has been permitted to travel with the minor. Therefore, he asks the parents of the minor to write the permission letter with their signatures so that he can show this letter as proof.
How to write this permission letter?
If you are a parent or a guardian of the child and you need to permit someone to travel with your child because you cannot, you will have to write this letter. You are required to draft this letter in such a way that it can convey all the necessary details. Here is how you can write this letter:
Give information of your child:
You should start this letter by giving some essential details of the child including his name and the person he wants to travel with. You should also tell that how you know that person. if that person is a relative of the child, mention the relation.
Specify the purpose of travelling:
It is very important to mention that why you are compelled to allow your minor to go with someone for traveling purposes other than you. Mention the purpose and tell that how long the child will stay with that person.
Tell what you have permitted:
Apart from allowing the child to travel with an adult who is not his parent or guardian according to rules and regulations, you have to give other permissions such as giving the medical treatment in case of emergency. This will let everyone know that you have allowed the person accompanying your child to take care of him
Close the letter well:
At the end of the letter, you should specify that what documents you are providing with this letter as support. For example, if you are providing your child's birth certificate for easy identification, do mention it in the letter.
Many people find it challenging to write this kind of permission letter because they are afraid that they will end up ruining everything by not drafting it appropriately. To assist such people, we have provided a sample below:
Sample letter:
Date:
Name of the sender:
Address of the sender
To whom it may concern:
Our son William is traveling out of the country with his grandfather Mr. David from April 1 to 3rd May 20XX. My son is traveling with his grandfather for sightseeing purposes. He will be traveling to different parts of Canada with his grandfather for this purpose. We have permitted him to travel to Canada for sightseeing. Below are my notarized signatures which will be used as proof that we have approved. In case you have any questions regarding this matter, you can contact me any time on the given numbers.
I am also providing the passport copy and the copy of the birth certificate of my son with this letter. In case there is any medical emergency, Mr. David will be giving medical treatment to my son as per my permission.
Sincerely,
Mr. and Mrs. Diana (William's parents)
Signatures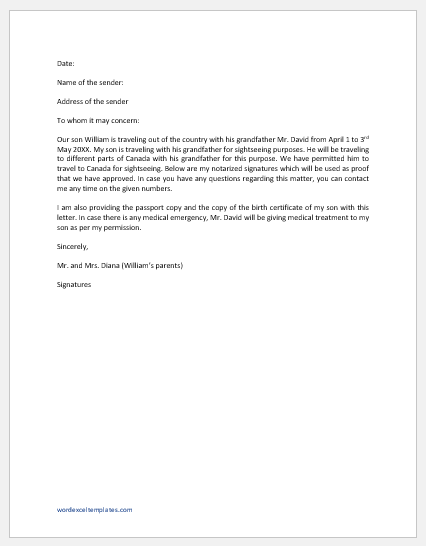 File: Word (.docx) 2007+ and iPad
Size 18 Kb
Download
---