A pay order letter is written by a company to a bank, in which the company requests the bank to make pay orders for them for their different clients. It is like an instrument, in which the company pays the bank and the bank, in turn, pays the client.
While running a business, an organization may have to make many transactions and financial payments. The payments can be made through different modes, such as cash, cheque, bank transfers, pay orders, etc. A pay order is a document, prepared by the bank, that entitles the payee the mentioned amount, which can be cleared within the city from the branch of the bank that has initially issued it. A pay order is used because of many reasons, such as:
It is a safe instrument.
It is easy to carry and chances of stealing are limited.
It can only be cleared within the city of issuance and with the same branch of the bank.
It allows a larger amount of money than other instruments, like a bank draft.
The payee may demand a pay order for the payment.
If a company decides to choose the pay order payment instrument, it provides the cash or requests the bank to use the money from its account with the bank. A slight fee is charged by the bank for making each pay-order.
The company provides the details of the required pay orders and the banks prepare the documents which can be given to the clients by the company as a payment of their products or services.
For writing such letters, there are templates available online as well as in programs, such as Microsoft Word. The company can write the letter itself without using a template, as well. However, the templates are easy to use and customize as well as the time and effort get saved. The general details including in the pay order letters are:
Date.
Details of the payer, including the bank account details (especially, if the payment of the payment order is to be made through the bank account and not cash).
Details of the bank.
Details of the payee.
The required amount of pay order.
Reason of using pay order.
The number of payment orders.
Required date of payment orders.
Request for speedy processing.
Request for delivery of payment orders.
Salutation and signature.
Sample Pay Order Letter
Dear Ms. Jane,
I am writing this letter on behalf of ABC Corporation to request you for a pay order.
We have a small vendor that provides our raw materials and we have to make the payment through a pay order. Following are the details:
Name: XYZ limited.
Amount: $XXXX.
I am attaching other relevant details with this letter. Kindly, prepare the pay order and deliver it to us by 11th July 2019, as we have to make the payment on 12th July 2019.
Let me know if you need any other information. You can contact me at [contact].
Regards,
James Watson.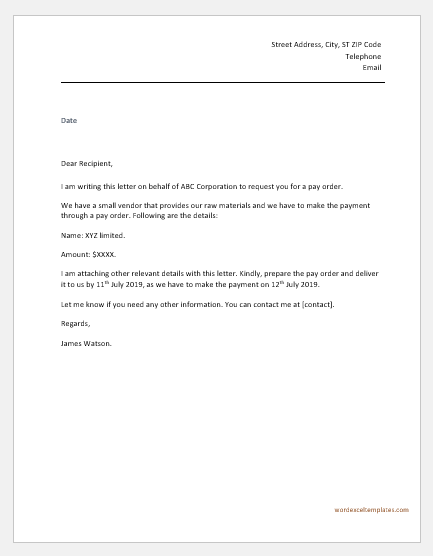 File: Word (.docx) 2007+ and iPad Size 28 Kb |
Download
---