An office clerk is a person who is responsible for answering calls, filing documents and processing data. Enveloping letters and replying to emails might also be included in an office clerk's duties. Every office has different needs so the responsibilities of the office clerk may also vary.
Office clerks are needed in schools, hospitals, offices and even businesses. They help to provide administrative support to different levels of management. An office clerk should know how to perform office tasks such as scanning documents. The use of a computer is a much-needed skill for every person especially the office clerk. He should be familiar with Microsoft Word, powerpoint presentations and use of spreadsheets.
An office clerk may not need a university degree. A high school diploma is enough for such a job as the person can be trained to do the needful. Use of computers and software can be useful for an office clerk.
Sample Resume
Summary:
Experience in entering and retrieving data from computer systems, maintaining and updating records, answering calls, making reports and keeping office documents. Creative, innovative and enthusiastic office clerk with the excellent speed in typing. Strong public presence and peaceful personality help to maintain and build cordial relationships with people in different departments.
Familiarity with computer software and technology. The ability to adapt to change in any work environment. Strong time management skills and the ability to perform under pressure situations. Improved work efficiency by introducing new strategies to do regular work. Good listening skills help to understand and perform the tasks per the instructions. Strong decision-making skills which help to prioritize work as per the important and deadlines.
Objectives:
My objectives in this job are:
To provide clerical support in all the official work.
To document confidential information and maintain the security of that information.
To focus on the details of operations.
Work Experience:
Alpha Corporations
My duties in this job are/were:
To perform document scanning procedures and enter them in the computer systems to make it easy for other departments to access and review them.
To type and send emails and letters to senior executives.
To supervise a junior staff of 5 clerks.
To provide for the billing requisitions and maintain a copy of them.
To respond to any emails, letters, and correspondence.
To ensure customer satisfaction by replying to their queries.
To store and save office files and documents.
Betta Company
My duties in this job are/were:
To write, type and enter information into computer systems.
To arrange file records and documents in a defined way.
To receive any payments from customers and deposit them in the bank.
To distribute any information in the staff on the orders of the senior executives.
To collect source documents from various departments.
To re-enter updated and verified data.
To make any necessary amendments in the data-carrying errors.
To plan and implement the database management systems.
Technical Skills:
Communication skills.
Typing speed.
Analyzing data and information.
Presentation skills.
Core Competency:
Use of Microsoft office.
Time management skills.
Public speaking.
Reference:
To be provided on demand.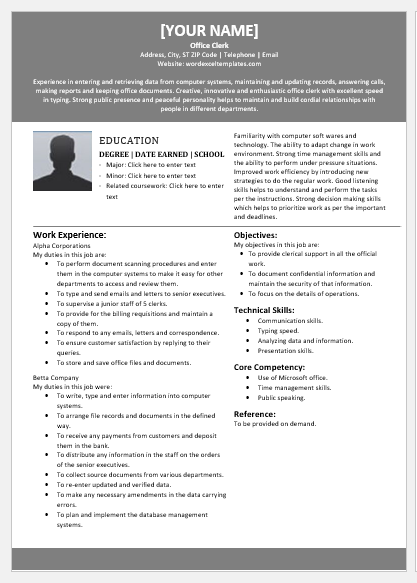 File: Word (.docx) 2007+ and iPad Size 58 Kb |
Download
---