The letter in which the complaint is launched for the irregular payment cycle of salary is written by an employee, in which he addresses his employer and brings into the employer's attention the issue he is facing with respect to the irregular disbursements of his salary.
The employee can write this letter himself or use an already available template of the company, online sources or programs, such as Microsoft Word, Adobe PDF, etc. If the employee is using an existing template, he needs to customize it as per his and the company's requirements. The details and included information may vary from the case to case, employee to employee and company to company. However, the general format of the letter complaining about the irregular payment cycle of salary includes:
Date.
Details of the employee.
Details of the employer.
The issue or complaint.
Details of the irregular payments, including the details since it is occurring.
The problems the employee is facing because of such irregular payments.
Request for the solution.
Salutation and signature.
This letter is important both for the employee and the employer because:
It brings the issue into the attention of the employer, who may not even be aware of it.
It makes the issue a formal complaint launched through a formal letter, which is also kept in the records, hence requires quick action.
The employer can get to know of the disturbance for the employee caused by the delays in his salary.
The person is responsible for causing the problem can be investigated and the employer can then resolve the issue.
Although this letter is a complain letter, yet, the tone of the employee should not be offending. He needs to present his case in a very polite, clear and professional way while requesting the employer to resolve his issue.
Sample Letter
Dear Ms. Emily,
I am currently working as an assistant buyer in the purchasing department of XYZ Limited. I joined the company last year on 15th June 2018.
As I joined in the middle of the month, I and HR department mutually agreed that my salary would be disbursed on the 15th of every month for the first three months of my probation. After probation, I became a regular employee and the salary was expected in the starting dates of the month like the other employees. However, when I did not receive my salary till the 18th of October, 2018, I approached the HR department, which immediately released it the next day.
However, this irregular payment cycle of my salary has continued since the month of October. As my monthly expenses are dependent on my salary, everything, such as my mortgage payments, the fee of my children, etc., gets disturbed due to the late and irregular payments.
I request you to kindly look into this matter and resolve this issue for me. I will be highly obliged.
Let me know if you need any further details.
Regards,
William Smith.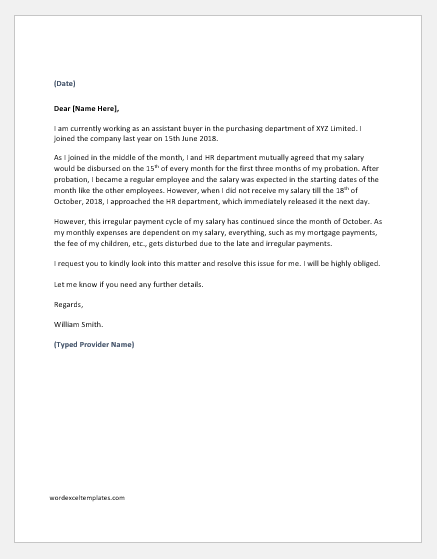 File: Word (.docx) 2007+ and iPad Size 36 Kb |
Download
---