Many such situations entail the need to write a resignation letter. It takes a lot of courage to decide to leave your job. Things become difficult when something happens in your family and it requires you to give your full attention and time to your family.
The job of a nurse is very demanding. It requires a nurse to work for more than 15 hours a day. In this situation, the nurse does not pay attention to his/her family. At times, the family has to be given priority and this is where the need to take a break from work arises.
What is a nurse resignation letter for family reasons?
When a nurse has something very crucial in her/his family that needs to be resolved with full attention, he or she can decide to resign from the job. When you have your family reasons to quit, you must write the resignation letter and mention the reason in it.
How to write the resignation letter due to family reasons?
Mention the reason for your resignation:
When you write the resignation letter due to family reasons, you need to mention that you have decided to leave because this is your family requirement and not an issue at the workplace that compelled you to do that. Doing this can be useful for you. This will enable you to leave the door open in case you ever want to return to work after resolving your family issues.
Don't give too much detail:
When you think of writing the nurse resignation letter due to family reasons, you might be thinking that you are required to mention the reason also. However, it is not mandatory to specify what kind of family problem you have or what kind of issue has been bothering you. You don't need to go beyond "family reasons" as no one can be forced to discuss family matters with someone.
Keep the tone of the letter formal:
Your resignation letter is a formal letter that you write to your employer. As a nurse, you need to draft this letter keeping the formal tone of the letter into consideration. Keep the letter short and full of necessary details.
What to include in the resignation letter written for family reasons?
It is completely up to you how much detail regarding your family reason you can afford to provide. However, we recommend you focus on staying positive. Appreciate your employer for allowing you to work with him.
Tell the employer what you have learned from the employer by working with him. Also, say thanks to your co-workers who cooperated with you and helped you grow and survive.
Offer your assistance in the transition period to find the best replacement. You should tell the employer how much time you can give to the transition period. Provide your contact details to make it easy for the employer to reach you.
To help you draft the best resignation letter that won't close doors for you, we have included a sample resignation letter.
Sample letter:
Date:
To:
Address of the receiver:
Subject:
Respected sir,
I am writing to inform you that I will be leaving ABC hospital as a head nurse. My family circumstances are not normal these days and they need my full attention and time. I have lots of things in my family to take care of. Therefore, I feel that I will not be able to perform my duties as a head nurse. 31st March 20XX will be my last day in the hospital.
I am feeling extremely sorry for causing you inconvenience. However, I am ready to provide you my services for the rest of the month so that you can perform the transition process smoothly. In addition, I will perform my duties well before I leave.
I would like to say thanks to you for allowing me to work in your hospital as a head nurse. I hope that my departure will not impact our relationship. You can contact me if you want to discuss anything with me.
Respectfully yours,
Signatures of the nurse
____________________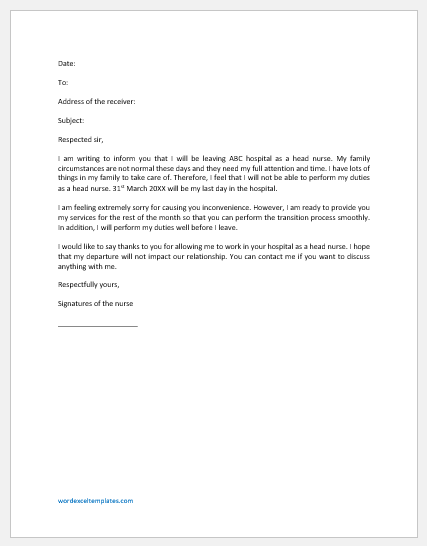 File: Word (.docx) 2007+ and iPad
Size 18 Kb
Download
---