Schools and parents communicate frequently in relation to the overall wellbeing of a child. In order to keep parents updated about school affairs, schools issue notices to parents for any events, developments, changes in school or anything that affects students. There are innumerable situations were a notification letter may be issued to parents including:
Viral infections
Health awareness
School activities such as plays, events, debates, competitions, sports or ceremonies
Academic developments
Change in administration
School security
School uniforms
School Trips
School holidays
While the above notifications are issued to all students, some notifications may even be issued to parents of particular students. Here are a few examples of why such notifications may be issued:
Misconduct in school
Fighting in school
Late arrival to school
Poor academic performance
Disciplinary action
Special circumstances such as health or injury
Sample letters
1- Notification letter to parent for a school activity
Dear parents,
This is to inform you that the annual bake sale for charity will be held on Saturday, October 06, 20xx. You and your child are invited to join us in this activity. The purpose of the activity is to inculcate a sense of responsibility towards underprivileged people. Students will learn the importance of helping others through charity. The students will be required to bring baked items to the school and sell them to other students. Stalls will be provided to groups of students. All proceeds will go to charity.
Your cooperation and participation will be highly appreciated!
Sincerely,
Kathleen Kim
Principal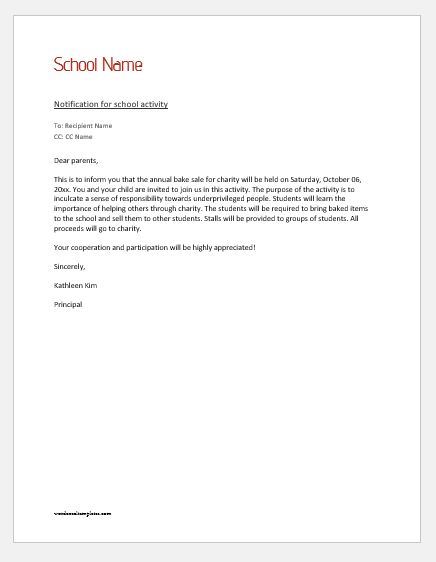 2- Notification letter to parent from school for viral disease
Dear parents,
This is to inform you that we have received an official warning for a measles outbreak in the city. Two cases were also reported in our school. The affected students have been asked to stay home while they recover. Please ensure that your child is properly vaccinated.
Sincerely,
Principal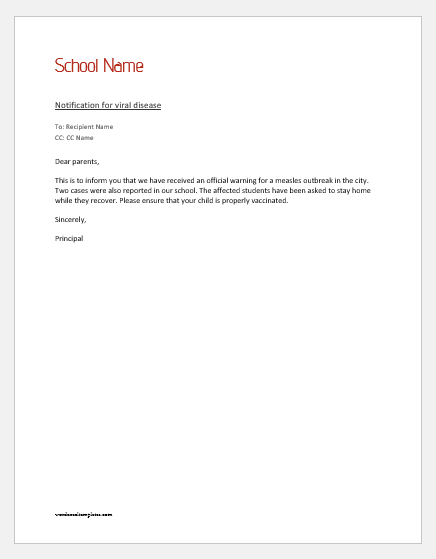 3- Notice to parent from school about communicable disease
Dear parents,
This is to inform you that several cases of Hepatitis A have recently been reported in the city. Hepatitis A is a communicable disease. The disease may be transmitted orally. Please make sure that your child is vaccinated for the disease.
Sincerely,
Principal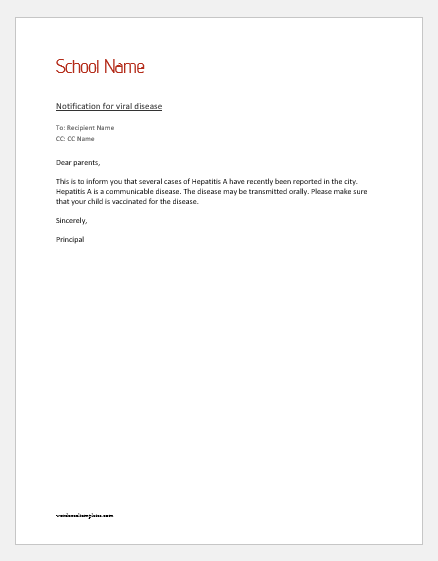 4- Ringworm notice to parents
Dear parent,
Your child seems to have been infected with ringworm. His teacher noticed a circular worm on his arm and asked the school nurse to confirm. Ringworms are contagious and can spread through soil, human to human contact, from pets or through touching things that have fungal residue from the ringworm. Please make sure your daughter receives proper treatment for ringworm for her own health and a healthy environment at the school.
We wish her good health.
Sincerely,
Vice Principal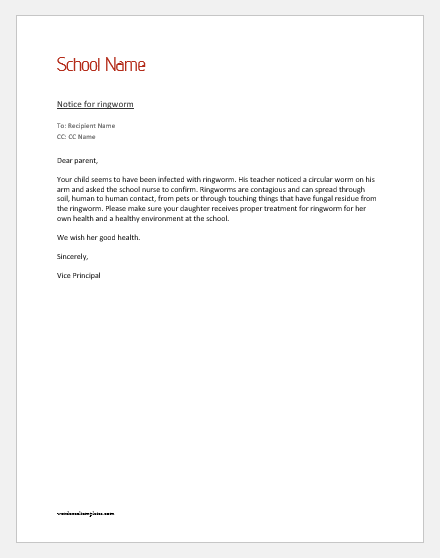 5- Chicken pox exposure notice to the parent
Dear parents,
This is to inform you that the school has been exposed to the chicken pox virus. Two cases were reported last week and another student was diagnosed with chicken pox yesterday. To keep your children safe, please ensure that your child receives the preventive vaccination.
Sincerely,
Vice Principal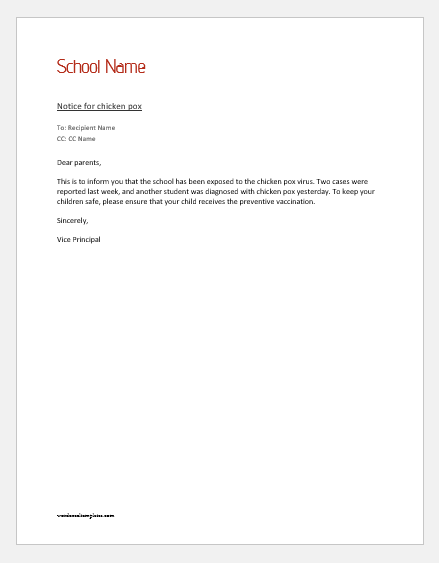 6- Flu exposure notice to the parent
Dear parents,
This is to inform you that in the past 2 weeks students have been exposed to the flu virus. Several students have fallen ill. To protect your children, make sure that they have received their annual flu shots. Also, keep the children dressed properly to avoid falling ill.
We wish all our children good health.
Sincerely,
Vice Principal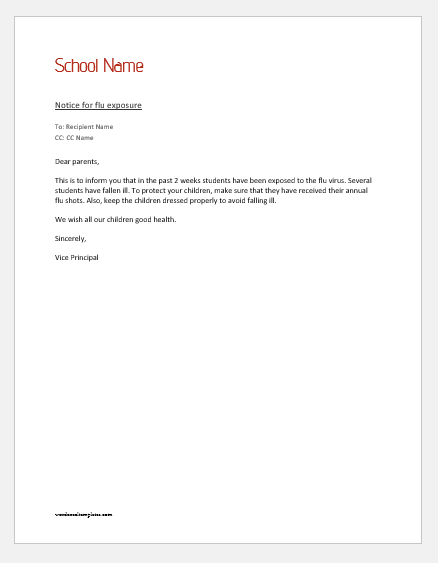 7- Strep throat letter to parents
Dear parents,
As the weather is changing, several students have caught strep throat a bacterial infection. Strep throat is contagious when not treated with antibiotics. We are therefore writing to warn parents to remain cautious about their child's health.
Sincerely,
Principal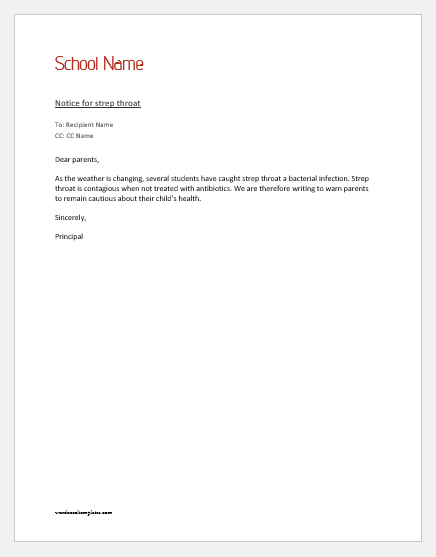 8- Pinworm letter to parents
Dear parent,
Recently your child has been seen uncomfortable in his seat and fidgeting all day. Upon inquiry by the teacher, he complained of itching. The teacher sent him to the nurse and she suspects he has pinworms in his intestine. Kindly consult your pediatrician for his treatment.
Best wishes,
Principal