An office may occasionally close for a day or more than a day for various reasons including national holidays, internal office events, a national security issue, natural disasters, emergency situations or religious holidays such as Christmas and Easter. Offices may also close for important events such as Election Day. Some offices may close for the end of fiscal year accounts reconciliation or record maintenance.
Another reason for businesses to close is non-natural disasters such as electric malfunction, fire, building collapse or any other similar disaster. Small businesses such as sole proprietorships might close for even personal reasons, such as the owner is sick or has important things to take care of. Apart from emergency situations, most offices announce if the office is to close.
The purpose of writing this template is to effectively inform the customers and the staff of the company on any upcoming holiday.
The letter must be drafted prior the holiday begins as it is an announcement letter and announcements are usually made in advance. Such types of announcements make everyone tailor their tasks with it.
What is the objective of the letter?
These letters are written to make the recipient mentally prepared for the holiday in advance. Although this letter is written less frequently, it has a great significance in any business.
When everybody knows about the holiday in advance, they can make plans for their personal needs and needs of the business. It also enables them to organize everything according to the holiday.
How to write the letter?
You can easily write the announcement letter by drafting it in a correct format. There are several things that are required to be kept in mind while writing this letter.
The letter must have the date and hours the business will be closed.
It should also include the date and time when the business will reopen.
When there is a company's closing, writing this letter prepares the clients. It is also important to mention why you are announcing the holiday.
The letter should be written to notify the stakeholders for an upcoming event. The stakeholders are responsible for holding the entire business. They can easily manage the company when the holiday comes.
The announcement of a holiday is really not a good news for certain client. Because of this, it should be written in a positive tone.
Many clients feel very insecure about their projects when a holiday is announced. Such clients should be ensured that their project must be finished after the holiday.
End the letter by mentioning your contact information where you can contact in an emergency situation. Since it is a formal letter it should be ensured that the letter is not too long.
Samples
1- Office close announcement due to an official holiday
Dear all,
Please note that the office will remain closed on May 01 20xx owing to Labor Day. The office shall reopen on May 02, 20xx.
2- Office close announcement due to an internal office event
Dear all,
Please note that the office shall remain closed through October 12 – 13, 20xx for the annual celebrations and dinner. Work will resume as normal on October 14, 20xx. We look forward to seeing everyone at the annual celebrations and dinner.
3- Holiday announcement due to Christmas
Dear all,
Please note the office shall remain closed for Christmas Holidays from December 24 to December 27. The office will reopen on December 28. Wish you all a Merry Christmas.
4- Business close announcement to customers from [DATE] to [DATE].
Dear customers,
This is to inform you that we shall remain closed from November 07 to November 10. During this time, our customer service helpline shall remain available if you have any queries. Business shall resume as normal from November 11. We appreciate your patience.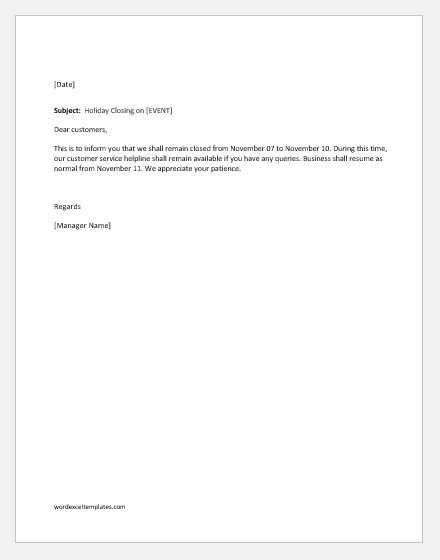 5- Special holiday announcement to staff for a number of days
Dear all,
We are pleased to inform you that the company has surpassed its targets for this year and profited. To celebrate your hard work, the company has decided to award a special two-day holiday to all its valued employees from July 10 – July 11. We hope you are able to use this time to relax and spend with family.