Membership roster sheet is usually used by the management of clubs that want to keep the record of all the details. This is one of the crucial documents, that is used to give the information about all the club members. The member roster provides the details such as the date of joining the club, the contact details and other details of each member.
Contents of membership roster:
The main details that are included in this roster are:
Names of the members
Contact information
Duration of membership
Date of joining the club
Interests of the members of the club
Position held by each member in the club
Signatures of the authorized person
Membership roster template:
Anyone in the management of the club can prepare the membership roster. Every high-quality organization uses this roster to provide the best experience to its members. Most of the organizations use the template for this roster that not only saves their time but also provides them with a unique and professional document that helps them in keeping a record of the members. The template for membership roster is available on this website that can be downloaded free of cost.
The membership template is helpful in managing all the events and activities that are conducted in the club. Since each member has to pay monthly to be an active member of the club, it is important for the organization to keep track of all the payments collected from each member. For this purpose, this template can be used as it is a convenient tool that simplifies the process of calculation.
How to use the membership roster template?
Add all the details in the template such as the name of the club, the member's details such as their names and contact details
Gather all the information about the members and then add it to the template
Keep entering the data of each member one by one. Remember to save after entering the data of one member in order to avoid the risk of losing the data.
Preview and Details of Template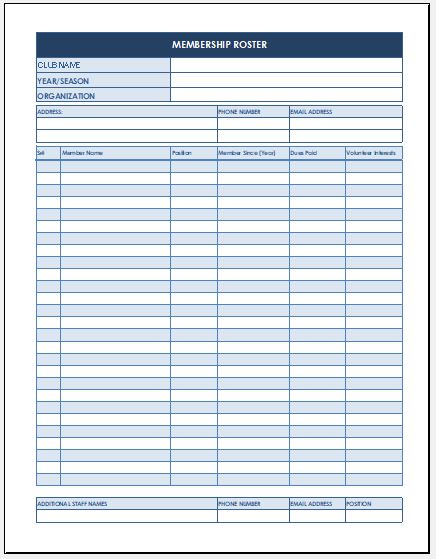 Membership Roster Template
File: Excel (.xls) 2003+ and iPad 
Size 31 Kb | Download
License: ENERGY [Personal Use Only]