Performance Checklist
Keeping track of the performance of your vehicle is an important task since it lets you know exactly when you may need to get it maintained or repaired. Moreover, if you want to buy a car which is already in use, then checking the performance is recommended. There are lots of factors to be considered such as the specifications of the vehicle including both interior and exterior.
Checking the performance of the vehicle is the most important factor to consider. You can't buy a vehicle because of its beautiful look. Using a checklist to know the performance of the vehicle can be very useful for you because with the help of it, you can get to know about the condition of a car engine, tires, suspension, automatic transmission, brakes, steering, interior and exterior condition etc.  The issues in the vehicle can be spotted ahead of the time before you rent it out and put someone else in trouble.
Main elements of the vehicle performance checklist:
The main details that are added to the checklist are:
The vehicle name and model
The date at which the inspection is being done
The name of the person conducting the inspection
The current mileage of the vehicle
List of factors to be considered to check the performance of the vehicle
There should be a separate field in the checklist to tell if the considered factor is fine or not. In case you need a more comprehensive checklist, you can add a special section for giving the remarks about the considered factor.
The template for the checklist of vehicle performance is being offered on this website totally free of cost. This checklist template is very useful for all those people who want to inspect the vehicle for any performance issue.
With the help of this checklist, the internal and external defects of the vehicle can also be identified. After the checklist template has been completed, it can serve as a performance report of the vehicle based on which it is decided if the vehicle needs maintenance.
Preview and Details of Template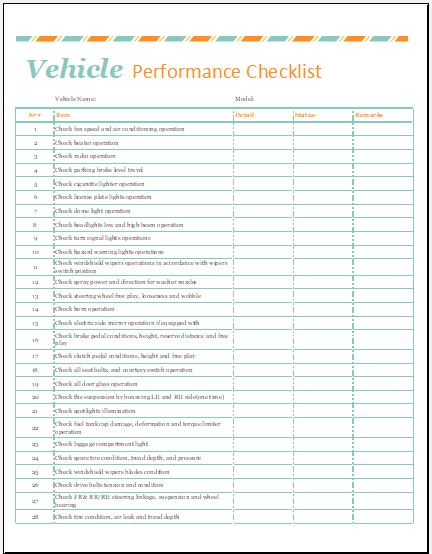 Vehicle Performance Checklist
File: Excel (.xls) 2003+ and iPad 
Size 22 Kb | Download
License: ENERGY [Personal Use Only]
---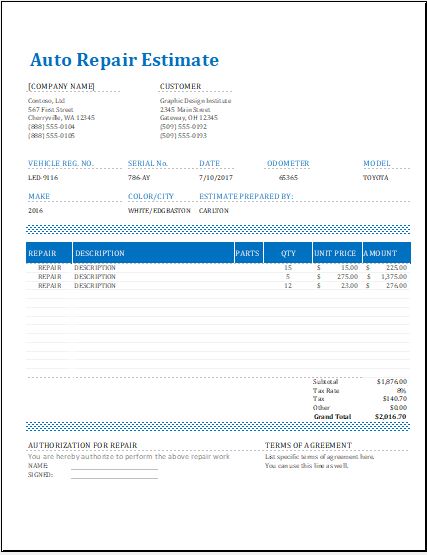 Auto Repair Estimate Checklist
File: Excel (.xls) 2003+ and iPad 
Size 22 Kb | Download
License: ENERGY [Personal Use Only]
---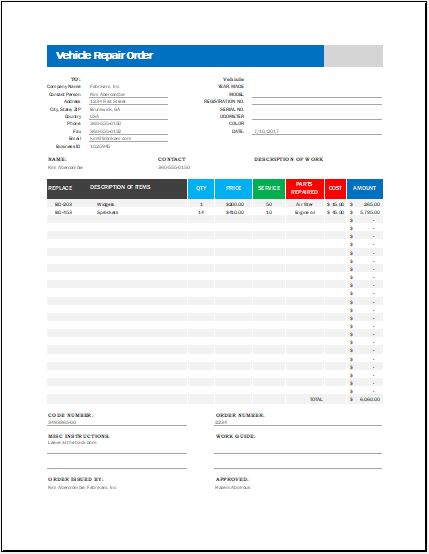 Vehicle Repair Order Template
File: Excel (.xls) 2003+ and iPad 
Size 28 Kb | Download
License: ENERGY [Personal Use Only]