A letter to request urgent items that are out of stock is a letter written by a manufacturer, wholesaler, retailer, or organization, and is addressed to the supplier of the items, that are needed on an urgent basis. In this letter, the organization makes a request to the supplier to provide the products on short notice.
Usually, the supply manager in an organization attempts to match the supply with the demand of the products, so to minimize the availability and customer dissatisfaction issues. However, sometimes, the problem of a demand and supply gap may arise. There could be many reasons behind that, such as:
The demand was not predicted properly.
The demand has unpredictably increased due to external factors and lack of competition.
The items have expired or became faulty.
There are delays in the supply from the supplier's side.
Organizations always try to satisfy the customers by making things available when the customers want, otherwise, they can lose their customers to the competitors. Therefore, even if the items are finishing, and need a quick replenishing, they contact the suppliers and request to send items urgently. This requisition is made through a letter to request urgent items that are out of stock.
This letter can contain varying details as per the circumstances, company's requirements, relationship with the supplier, etc. However, generally, the following details are included in such letters:
Date.
Details of the supplier.
Details of the organization.
The issue of out-of-stock items.
Reason behind the unavailability, if required and applicable.
The request to supply on an urgent basis, with all the relevant details of the items and their requested quantity.
Provide a deadline or date for delivery.
Entice through offers for urgent delivery, if possible.
Talk about future orders and demand predictions.
Gratitude.
Salutation and signature.
When the supplier receives this request letter, he analyzes it to see if he can provide this urgent delivery. If he can supply, he will formally inform the organization by sending it a response letter, or if he cannot, he will clearly inform why he is unable to provide the items. Sometimes, it is hard for the suppliers to provide items or products on short notice, however, if an organization has a good relationship with the supplier, the latter may attempt to fulfill the former's request.
Sample Letter
Eric Dane
Director of ABC Institute
Dated: 28th February 20XX
Subject: Request to replenish urgent items
Respected Director,
It is respectfully stated that I have been working in the capacity of a laboratory attendant in ABC Institute for 4 years. In addition to assisting students in their laboratory work, I also manage laboratory stores and provide materials and other equipment to students on demand.
I wanted to draw your attention to an important issue I.e., the unavailability of urgent items in the store. Many of the items are purchased in low quantity because of their cost but sometimes all the students of a grade have to perform the same experiment and require material in sufficient quantity. Due to the lack of these chemicals, many students are not able to perform their assigned experiments and fall behind in class.
I request you to replenish these materials in the store so that they are available to students on-demand otherwise, it will greatly affect their performance in the finals. All students are worried and want you to know about the current situation.
Kindly consider my request as a priority.
Regards,
[Your Name]
Laboratory Attendant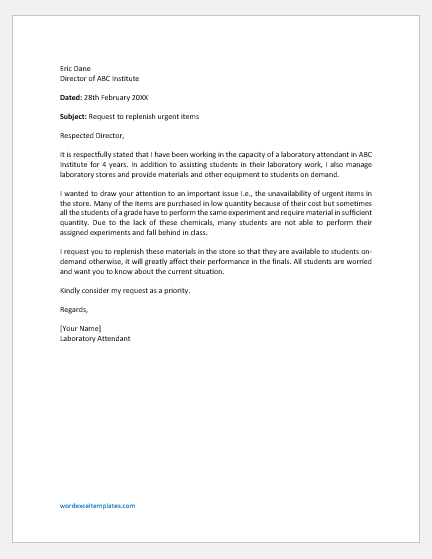 File: Word (.docx) 2007+ and iPad
Size 28 Kb
Download
---
Sample Letter
Dear Brown,
My name's Black and I have been working at Tesco for about 15-months now as a full-time employee. Because of the latest surge in Covid-19, we are witnessing an influx of people flowing into our store to purchase almost all kinds of items in large quantities. However, we have made relatively bigger sales on Junk Food items, the Skincare section, and toilet rolls. Although we usually have items stores in the warehouse for this franchise, the customer flow has been quite unprecedented and unexpected in this latest peak that it turned out very hard to manage and supply according to the demand.
As of now, we are left with only three days' supply for the above-mentioned sections. It is, therefore, requested to you kindly arrange the most wanted items urgently before we see another influx.
I have listed all the important goods required on an urgent basis and attached them to this letter on a separate page. Please do not forget to send a full audited report of the items because in case of a need we may have to check the related information.
It would be great if you could dispatch these items within 1-2 days maximum as this will buy us little time to organize them according to our schedule. Just to let you know, keeping the unpredictable circumstances before us we may request some further orders on an urgent basis.
It is requested to you keep the warehouse full of all the items we sell at Tesco. We can lose potential and regular customers otherwise and the store's reputation will also be compromised.  I hope we will not witness any delay or negligence.
I am closing this letter with the hope that you will understand the nature of this emergency and act accordingly.
Best wishes,
Black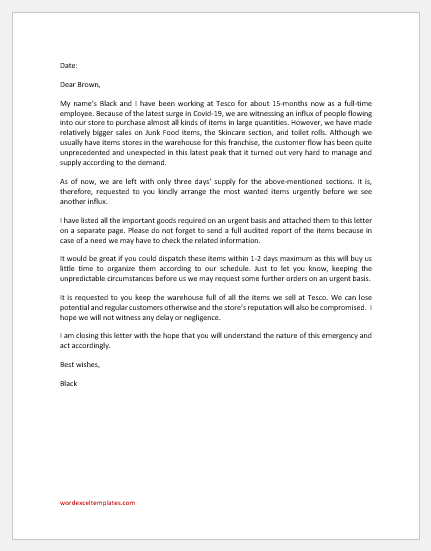 File: Word (.docx) 2007+ and iPad
Size 21 Kb
Download
---