A letter to the manager to activate the bank account is a letter written by an account holder and is addressed to the bank administration. In this letter, the account holder makes a request to the bank to activate his account, which has become dormant.
Sometimes, an account holder does not make any transaction in or out of his account for different reasons for a specific time, which results in the bank making the account dormant. It means that the bank blocks account transactions temporarily. An account, usually, remains inoperative or dormant until the account holder closes the account or requests for the reactivation of the account.
The main reason behind the bank making the account dormant or non-functional is the protection of the account holder's money lying with the bank. If the account holder is not using the account for a certain period, it means that he may not need the account right now. To avoid another individual from misusing his account or doing fraudulent activities, the bank makes the account dormant unless the account holder contacts the bank again.
When the account holder wants to continue using his account, he would make a request to the bank to activate his account. One of the formal ways of doing so is writing a letter to the bank, in which the account holder can make the desired request for account activation.
The letter needs to mention the required details of the account holder. The general details included in a letter to the manager to activate the bank account are:
Date.
Details of the account holder.
Details of the bank.
Issue of the dormant account.
The reason behind no transaction.
Request for the activation of the account.
Request for the swift processing.
Mention the attached documents.
State availability for contact.
Salutations and signature.
This letter, along with the other documents, signifies that the account holder has made the request himself and he is the one using his account, and not any other individual. The bank then processes the request and reactivates his account.
Sample Letter to Manager to Activate Bank Account
Date
Name
Address
Dear Mr. William,
I am writing this letter to request you for the activation of my dormant account at ABC Limited, XYZ Branch.
I, David Smith, have a current account in your bank, with the account number [X]. As I was out of the country for one year due to my official training, there was no transaction in my account, which resulted in its deactivation. As now I am back, I need to use my account for salary and other purposes. I will be grateful to you if you speed up the processing and activate my account in a few days, as many of my transactions are pending because of the dormant state of my account.
I am attaching the required documents with this letter. If you need any other documents or information, kindly contact me at [X]. Thank you.
Regards,
David Smith.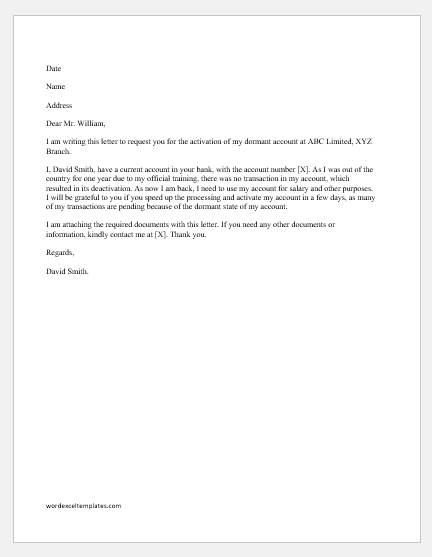 File: Word (.docx) 2007+ and iPad Size 17 Kb |
Download
---