A job completion sign-off form is a document that is either signed by an individual or a group of individuals working on a job as a team, to be kept as a record of employee's job completion, which contributes to the overall completion of the job. This document indicates the completed status of the job or the fulfillment of an individual's responsibility in a certain job. When a person signs and submits the job completion sign off form, it means that he has delivered his part to the best of his ability.
A job completion sign-off form is different than a work completion form. In the latter form, all the details are about the completion of the work or project and in the former one, the employees indicate that they have completed their individual part of the job. In addition, the job completion sign-off form can even be used in the case of employee's training, for which the work completion form is not applicable. Nevertheless, depending on the factors like the type of job, some companies or clients even merge the two and both are completed to ascertain the completion of a job.
The job completion sign-off form can be used in various scenarios, such as:
An employee has completed his training.
An employee has completed the certification or qualification required to do a certain job.
A worker has learned new skills and can work on the new machinery.
A worker has completed his part of the job with his best efforts.
This signed form may be a demand of the client or a company might use it for internal purposes and management of the project. The included sections and required information may vary from one scenario to another, bringing variation in the sign-off forms as well. However, generally, the following details are sought in a job completion sign off form:
Date of sign off.
Job completion date (both planned and actual).
Details of the employee/worker.
Details of the client.
Job reference.
Job description.
Worker's job responsibility.
Status of job completion and the employee's part.
Any issues or limitations.
Declaration of good performance.
Signature.
The worker's sign off forms is kept in the job file or employee file, which means that he should only sign it once he is certain that he has performed well and has completed the job properly. Otherwise, his job, as well as yearly evaluation, might get affected, and he would have to suffer in terms of his job and career.
For instance, if the worker submits the sign off form by declaring that he has completed his job properly, and later, it is found that either he has not fulfilled his responsibility or his performance was below standard, then he might get penalized by the company or client for his non-compliance to and wrong declaration in the sign off form.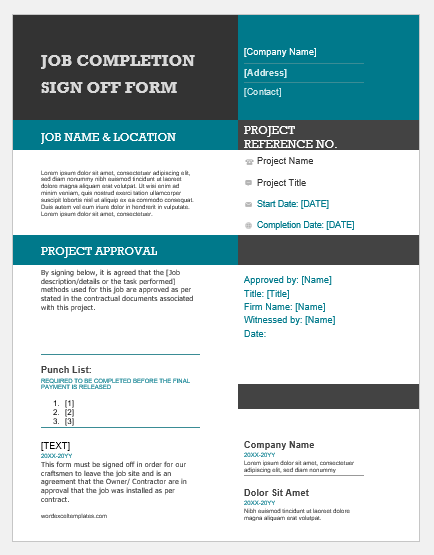 File: Word (.docx) 2007+ and iPad Size 135 Kb |
Download
---