When someone needs to apply for a loan, they try to bring their credit report in the best possible shape. However, sometimes we get derogatory marks on the credit report due to many reasons. One of the most common factors influencing the credit report is late payment. If a person delays the method due to any reason, his credit report reflects it. As a result, it becomes really hard for a person to apply for a loan.
As a matter of fact, no creditor wants the payment to get delayed no matter for which reason the loan was taken. So, when a creditor finds out that there is late payment history on the credit report of the applicant applying for a loan, he steps back. In this situation, an explanation letter can work wonders.
What is a late payment letter of explanation?
An applicant applying for a mortgage or any other kind of loan is needed to write an explanation letter whenever he has to apply for a loan with the help of a credit report showing late payment. At times, the lender asks the applicant to give an explanation of the late payment details on the credit report. Whereas, in some situations, the applicant himself thinks of writing the explanation letter so that the potential creditor can be made to know about the reason behind the late payment.
When to write this kind of letter of explanation?
We often feel the need to write a letter of explanation in different situations when we need to explain different things. When we know that we might not qualify for a loan because of the bad credit report and we know that what makes our report bad is our late payment record, we can write this letter.
A letter of explanation is also written when the applicant knows that he is not at fault because the delay was due to technical problems in the banking system or any other problem that he wasn't seeing coming beforehand.
When the applicant wants to prove that he is truthful and therefore, he doesn't want to keep things hidden such as reasons for late payment, he can explain everything by writing the explanation letter to the person who is expected to be your creditor.
Tips for writing a letter of explanation upon late payment:
Key tips to help you in drafting an effective letter are given below:
While writing the explanation letter, make sure that you are in the position to explain everything well. You don't need to provide fallacious information especially when you are contacting a financial institution. These institutions usually have access to the data of the person and therefore, they can confirm if you are telling the truth or not.
After explaining, you should try to assure the reader that the late payment was from your side rarely happens and that you are in the habit to pay early.
Make sure that your letter follows the correct format and is written with no grammatical mistakes. Follow the template in case you have any questions or confusion.
Sample letter:
Date
Name of the recipient
Address of recipient
Name of sender
Address of sender
Subject: letter of explanation for late payment
Dear ABC,
I am in the need to write this letter because I want to explain why my payment got late on my mortgage. I am also explaining the reason for late payment to all other creditors.
Two months back, my company was shrinking and therefore, I was laid off. I was deeply depressed in all those circumstances and couldn't inform anyone about it. I know that it causes inconvenience to creditors but I had no other option but to delay the payment.
I am in the habit of making every payment on time. There has never been a delay from my side. I assure you that you will never have to wait for the delayed payment.
My creditors are satisfied with me because I have cleared all the payments. Additionally, the delay was only for two months. I hope that my explanation letter is in a better position to tell you the exact situation.
Yours sincerely,
Signatures of the sender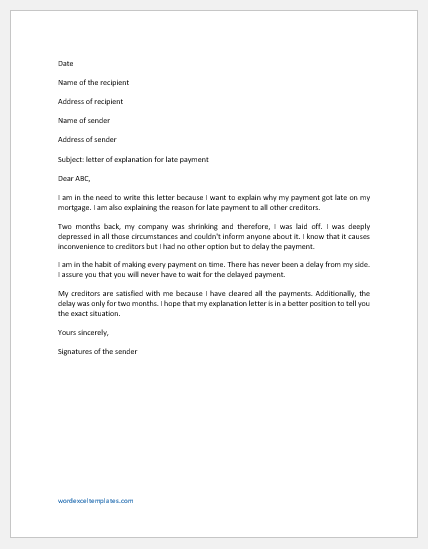 Size: 18 KB Word .doc File 2003 & later
Download
---