The letter of complaint to the employer regarding his unfair treatment is a letter written by an employee, who has experienced any type of unfair treatment while working in an organization. This letter is addressed to the employer of an organization and the issues and incidences are highlighted to him. In addition to informing him, a complaint is launched by the employee against the unjust treatment he has gone through.
An employer can be unjust in various ways, such as:
Promotions.
Bonuses.
Salary raises.
Fringe benefits, etc.
The unfairness of the employer may be real or maybe a perception of an employee. In both cases, it needs to be sorted out, as it directly affects the employee and indirectly affects the company.
Writing a letter about how the employee felt and how he had to suffer due to the unjust treatment is a good and formal way to communicate and complain to the employer. In addition, the employee can state the effects of the employer's unfair attitude on him in terms of demotivation, disappointment, etc.
If an employee is not satisfied, he cannot show higher productivity and performance, which impacts the employer and the organization. Therefore, through this letter, the employer would get informed about the employee's feelings, and the employer can aim to resolve the employee's issue.
When an employee writes this letter, he can make it short or comprehensive, and add details based on the extent of his disappointment. The general details, however, that are included in a letter of complaint to the employer regarding his unfair treatment are:
Date.
Details of the employee.
Details of the employer.
The issue and incidence of unfair treatment.
Show how and why it was unfair and unjust.
Effects on the employee and on the company (if any).
Request for investigation and fair judgement.
Show hopefulness for a positive response.
Salutations and signature.
Sample Letter
Date
Name
Address
Dear Ms. Samantha,
This letter is intended to launch a complaint against the unfair treatment I have experienced.
I am working as a 'Sales Expert' for the past five years at ABC Limited. Based on my performance and evaluation, I was expected to be promoted this year, i.e. 2019, as an 'Assistant Manager'. Even, this promotion had been communicated to me orally by my managers as well. However, when the promotions were announced, my other colleague got promoted as an assistant manager, while I still have the same position.
I deem it unfair as after all the hard work, dedication and performance, I did not earn anything, not even a raise in my salary. I am very disappointed, and I want to make a complaint to you about adopting unfair practices.
I hope you will look into this and make a fair judgment for me as well. Even if you think that I did not deserve the promotion, please provide me the proper reasoning and evidence, as, unofficially, my managers had already informed me about my good performance and promotion.
I look forward to a positive reply. Thanks.
Regards,
David Smith.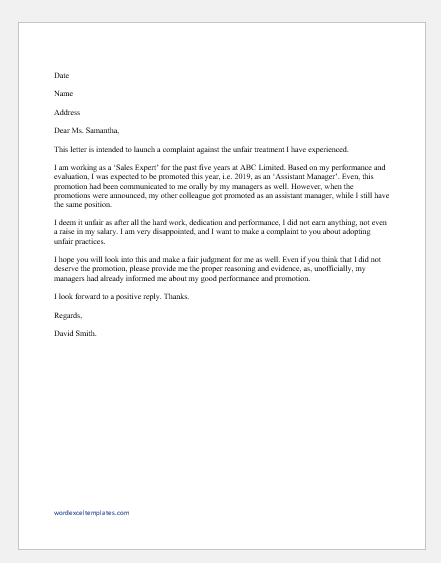 File: Word (.docx) 2007+ and iPad Size 18 Kb |
Download
---