The business letter that permits people to act on the behalf of a company to negotiate with different people is known as the authorization letter for negotiation. The company chooses that person for negotiation who has exceptional skills to convince people into accepting the terms and conditions of the company.
When to authorize someone to negotiate?
Generally, the key stakeholders are allowed to negotiate for a business or a service. But sometimes, these stakeholders are not always available for doing this job. When this happens, a person is chosen who can negotiate to bring all the stakeholders to a consensus.
Some people also permit someone else for negotiation purposes. We cannot do it because of not having skills that are generally needed to bargain with others.
Why is it important to write this letter?
When it comes to discussing matters related to the business, communication skills matter a lot. People who cannot communicate well often fail to make a deal that works best for them. Businesses also need individuals who can communicate with their clients effectively. In general, the owner of the business discusses matters with people himself.
We are often required to write permission letters to those we don't know. In such letters, we should be more careful about the choice of words and the content that we add. We should try to make sure that we convey our message in the right tone.
What is the best way to write a letter to give some authority to someone?
Writing an authorization letter often keeps people unclear as to how they should permit someone to do something that does not risk their business. Some of the best strategies that can be followed are:
Use the letterhead of your company:
Whenever you are writing a letter of authorization to anyone, you should not forget that you represent your company. So, the letterhead of your business is mandatory to use. This letter is a clear depiction of the company and it represents that the authority to discuss matters is coming from higher and authentic stakeholders of the company who have the power to allow anyone they want.
Give your introduction:
Mention your name and the name of the business that you own. Try to mention the name of the business on behalf of which you want someone to discuss important matters. Give descriptions such as the area in which the business is operating and some other specifics.
Know what to add:
The letter of permission is a formal written document that anyone who is writing has to be aware of. You cannot add everything you want to this formal letter. For instance, there is no need to explain the problems that you are facing while negotiating. However, giving the reason for choosing someone for doing the negotiation. 
Mention the boundary:
Some people feel unsafe especially when they are dealing in a business setting. Therefore, they try to set boundaries for the person they are permitted to negotiate with. In this part of the letter, they can tell what the subject of this document can do, on what matters he is allowed to negotiate and in which area he can go.
This way, you can prevent him from misusing the authority that you are giving him. However, remember that this part is not mandatory to add. Some letters of authorization are very clear because of the subject, the situation, and the type of letter that is written for giving authorization
Sample letter:
It is stated that I, (mention your name), owner of the (mention the name of the company) allow Mr. ABC to negotiate on behalf of my company.
Mr. ABC shall be able to talk and discuss all the crucial matters of the company with its clients. He is allowed to speak to different people on behalf of the company in the particular area of marketing and advertising.
The purpose of this letter is not to limit the power and authority of Mr. ABC in the firm. Thereby, he is allowed to accept or reject any agreement of the company with its partners.
Regards,
Name of the sender,
Signatures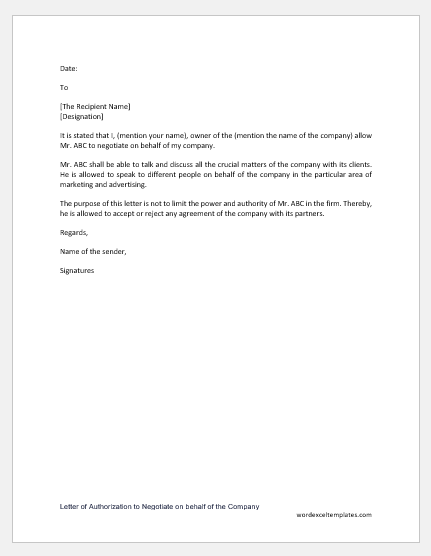 File: Word (.docx)
Size 22 KB