A business owner has complete authority over his business, and he can take any decision that he thinks is right for him. However, it is the responsibility of a business owner to inform all the people of any decision who are directly or indirectly impacted by the decision.
The dissolution of a company takes place when the owner decides to close it forever. The closure can be for any reason.
What is a letter of dissolution of a company?
It is a formal letter that a company owner writes to inform the recipient that he/she has decided to close the company. A company whether small or big cannot be closed behind doors. You cannot run your business day and the next day, close it suddenly. You have to go through a long, sometimes cumbersome process to dissolve a business. The first step is to write letters to relevant people and inform them.
When to write a letter of dissolution of a business?
There are several situations in which you will have to write this letter no matter how much you try to avoid writing it. Some common and important situations are:
When there are many shareholders, and you want all of them to know that they should be ready to get their shares back because of the dissolution of the company. 
When you have a business partner without informing whom you cannot take a decision.
You have hired multiple people in your company and their employment is going to be over you want them to know in advance so that they can find another job before the actual dissolution.
What are some important points to remember when you write this letter?
Sometimes, your written correspondence with your partners can put you in hot water because you don't take a calculated step. In the business world, you have to be very careful before you make any decision. Dissolution of a company is not as easy as you think it is. You need to take all the legal aspects of your business into consideration so that you don't have to deal with legal opposition that can cause you to continue running your business.
The dissolution letter should always be written after you have convinced all your partners about the closure. You should read the agreement with your business partners again to recall the clause regarding the dissolution of the business and what rights you hold regarding the closure of the company.
What are the best practices to write a letter of company dissolution?
You need to ensure that you follow some right ways to write this letter. Some of the best practices are:
Know how to address:
This letter can be written to many people like employees, business partners, shareholders, etc. When you write this letter, you specifically address a particular person. There should be an appropriate way to address the recipient and his relationship with the company should also be clear after reading the letter.
Provide the reason:
The recipient would definitely like to know why you have taken this tough decision. To prevent writing another letter with the reason, it is better to mention the reason in the same letter. Try to be brief and concise so that you don't have to write a long company dissolution letter.
Don't be sad:
Some people become so emotional while writing this letter that they share their feelings with the recipient. You should know that you are writing a formal letter that has nothing to do with emotions. This letter should also state your decision to dissolve and the underlying issues that your company had been facing. You can describe how you felt when the business was running and the things you enjoyed. However, being sad or using emotional phrases is not recommended.
Discuss your future goals:
Discuss with your partners what you want to do in the future. Ask your partners and shareholders to discuss things and give recommendations if they have any. Let the reader know that you have enjoyed working with them and you will miss the professional relationship with the reader.
#1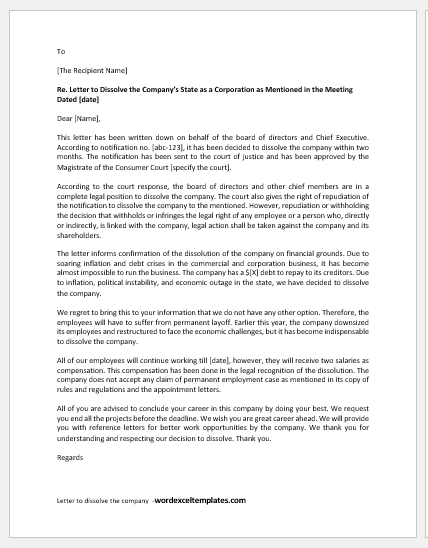 #2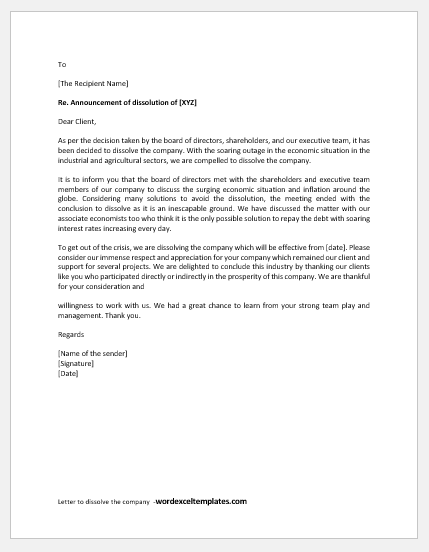 See also: