Subject: Application for Admission to the Climate Change Program for Graduation
Dear Administrator, I am [Full Name of the candidate], a resident of [Precise address]. I am an immigrant residing in American states since 20XX. I am from [Name the country] and going to live in the [Name the Town] for my education and work. I completed High School from [Name of the school] in [Name of the specialization]. 
My father is a real estate agent and works in a private firm as a Communication Expert. He earns $[salary in digits] annually and is capable of paying for my college expenses. Moreover, I am 19 and can work to meet my own expenses too. My father will look after my education expenses at college. Please find his statement in the affidavit attached. We are two siblings; my younger sister has just finished her primary education. Hence, it is easy for my father to pay my college fee. 
In high school, my major subjects were Astronomy, Psychology, and Environmental Sciences. I took an A grade in my Environmental Sciences research project. I am interested in studying space and environment, weather, and climatology. After extensive research on universities offering a similar program, I learned that [Name of the university] is offering a four-year graduation in Climate Change. I always love extensive study and reading literature on climate change and its variation patterns worldwide.
In my research project at [Name of the School], I theoretically analyzed the changing patterns of cosmology and connected them with climate change and human intervention. I am very interested in this field and want to pursue it at your prestigious institute.
I have attached all the required documents and the receipt for the application processing fee at the University Accounts Office (Outer branch). Please consider my application for the graduation class of session 20XX-22XX of the Climate Change Program. 
I aspire to use my knowledge of climate change and research skills to work in the government sector to carry out projects and help make effective policies. I will be much grateful if you let me be admitted to the campus and make my dreams come true.
Please let me know if you need more information about my admission. I will be delighted to answer any queries related to my previous degree and research work. Thank you.
Regards
[Name of the candidate]
[Date]
Sample -2
Re. College Application Letter
Dear Sir,
I am [Name], a permanent resident of [address]. I have covered my high school and aspire to get admission to your Media and Cultural Studies college. I want to graduate from your esteemed institute and aspire to a future in research and working in the public sector news agencies.
I have attached all the required documents, including my ID card copy and copies of my educational certificates and result cards. If I need to provide any more information, please let me know at [email].
I have chosen your institute for its dedication to media studies and its belief in interactive learning. I would be grateful if you allowed me to study at your distinguished university.
Thank you in anticipation.
Regards
[Name]
[Signature]
[Date]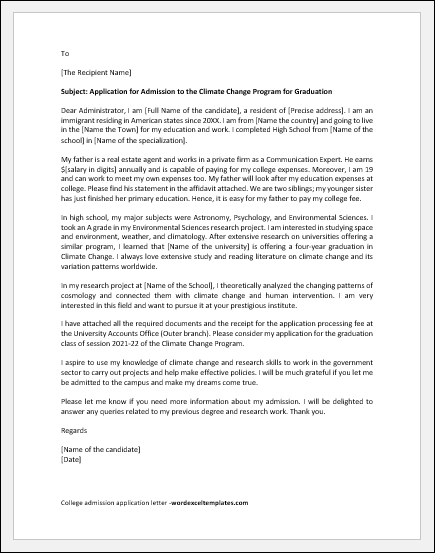 See also: