#1
Hello sir! I wanted to explain that I am feeling extremely low resulting in my unscheduled absence. It would be highly appreciated if you grant me the leave.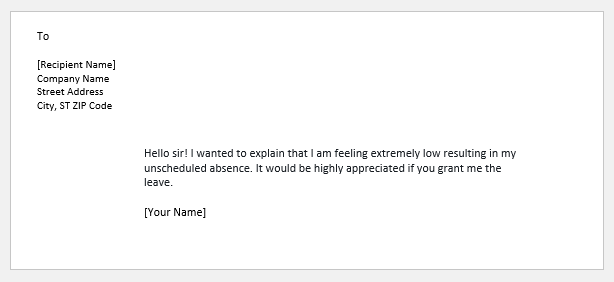 #2
This message is to inform you of a sudden family emergency due to which I won't be able to make it possible to be present at the work place today. Kindly grant me a leave for one day. I shall be highly grateful to you for this act of kindness.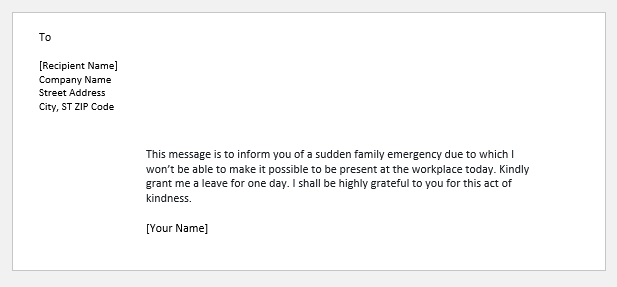 #3
I am extremely sorry for not having informed you earlier for an off day due to my appointment for routine checkup with my doctor. Through my reminder I got to know of my appointment which I had completely forgotten about due to loads of work that I had to do in the absence of Mr. [MENTION NAME] as I had to be active on his position as well. It is anticipated that you will take my request into consideration.
#4
I am sending this SMS to you to inform you that I met an accident while I was on my way to the office. Although I didn't get many injuries but my clothes are not in a good form at all. Moreover minor injuries are also extremely painful. I request you to accept my apologies for not coming to the office today.
#5
I am sorry for this unforeseen off day I need to have today. I was ready to come to the office but unluckily I fell off from the stairs and got several injuries. Due to extremely cold weather the pain is unbearable. I hope you will understand this rare condition.  
#6
This message serves you as my leave request as I am suffering from food poisoning since last night. I wanted to inform you about it right then but I was too much overwhelmed by the worst condition that I couldn't make it possible. I am going to see my physician and get this state treated as soon as possible since weakness has dazed me badly. Hopefully, you will understand it and grant me leave for two days from [MENTION DATE] to [MENTION DATE].   
#7
I am sorry for leaving the workplace before break time without having informed anyone as I got the sad news of my grandfather's sudden death. I couldn't believe my ears and rushed to my grandpa's place in no time. Later on, I realized my unconscious mistake and decided to write to you instantly. Kindly grant me two day leave to attend my grandfather's funeral ceremony.    
#8
This SMS is to inform you that I want a leave for two days from [MENTION DATE] to [MENTION DATE]. I had had compromised it if it wasn't my childhood friend's big day. I am supposed to be there to make her realize her utmost importance in my life. Hopefully you will take my request into consideration.   
#9
This SMS serves you as my official request for a leave for three days from [MENTION DATE] to [MENTION DATE]. I need this leave immediately as I want to visit my hometown due to my oldest child not being well. Waiting for your swift reply to leave for my hometown!
#10
I am so happy and excited to inform you that my wife is in the last month of her pregnancy and this is the time she needs me the most. I request you to grant me a leave for a month active from today from [MENTION DATE] to [MENTION DATE] so that I could fulfill my responsibilities and enjoy the unforgettable moments of my baby's birth. I will be highly thankful to you for this favor.