Hoteling is a profitable business these days. The hotel management shows the excellent balance and flow of cash. It shows that the authorities and establishment are doing well in maintaining the check and balance of hotel.
What is an Invoice?
Invoice is the front office transactions in any business. They keep a record along with check and balance of the credit and debit affecting a single guest room's charges.

Hotel invoice is generated by the hotel's management to inform the guests of the expenses of the facilities provided at the hotel during their stay.
The invoice is usually zero at the start. When the room is consumed the increase in money known and the decrease in money known as the credit is checked and entered into the invoice
Posting:
Whenever any transaction is done, it is entered in the invoice. This entering of debit and credit in the invoice is called posting. Posting should be done regularly to keep the account updated and should be done by a professional to avoid any error and inconvenience.
Generation of Invoice:
Invoice bill is given at the time of check out. When the client is checking out of the hotel, all his bills are given to him. Once the bills are settled and all dues are submitted, an Invoice is generated. Every Invoice has a specific number for reference. It keeps the record of the client and is used whenever that client checks in again. A reference number is different for every Invoice.
A well-drafted hotel invoice consists of the date of check in, invoice name, name, and address of the guest, services availed by the guest, food charges, room service charges, amount paid and the amount that has to be paid at the time of check out.
Invoice templates:
A couple of years ago these invoices were prepared on paper and handwritten but with the advent of technology, computer-based software is available that generate the templates for the invoices. These templates are available online and you can download them easily. They work on Microsoft excel and word and are easy to learn and apply.
Preview and Details of Template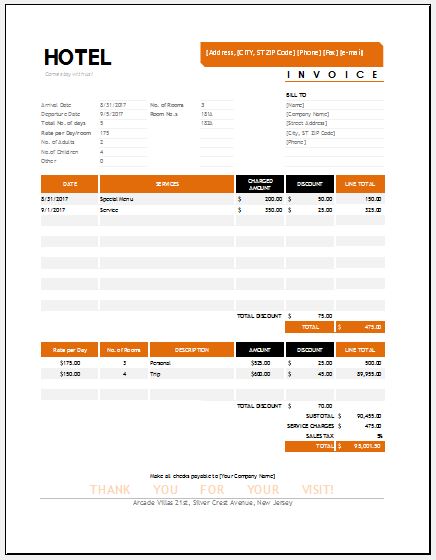 Hotel Invoice Template
File: Excel (.xls) 2003+ and iPad
Size 44 Kb | Download
File: OpenOffice (.ods) Calc [calc]
Size 14 Kb | Download
License ENERGY [Personal Use Only]
Not for resale & distribution