A hotel invoice is a receipt or hotel bill that provides a detailed summary of the charges incurred due to your stay at that particular hotel. These hotel invoices are presented to people who stayed at the hotel and enjoyed its services for a brief period of time. These invoices are paid at the checkout and kept as a memory of a good trip.
Hotel invoices allow you to break down all the expenses in a precise manner and let you know how much you spend on specific services that you enjoyed at the hotel. Hotels are great accommodations for travelers regardless of their purpose of stay, which can either be business or leisure. Staying at a hotel allows you to ignore the issues of sleeping in cozy beds and eating warm meals because most hotels cover all these features and provide extra services for you to relax and spend quality time.
Components
Major components of a hotel invoice depend on the hotel and the services it provides, but some general components are discussed below:
Header: hotel invoices are printed on letter pads that have information related to the hotel, such as its name, address, contact numbers, and social media handles.
Staff information: The name and ID of the staff member making the hotel invoice are also printed so that the correct staff member can be held accountable in case of a discrepancy.
Guest information: details regarding the name and contact information of the respective guests are mentioned, along with their check-in and check-out dates and times. All this information helps guests know more about their stay and notify hotel administration if there are discrepancies.
Room details: number of rooms used by the guest and family or colleagues; type of room: penthouse, single bedroom, or special suite.
Charges for each room and its type are mentioned in detail, along with additional charges for specific services provided by the staff.
Taxes: taxes applied to each room and service charges applied by the hotel are mentioned in detail to help guests know about the breakdown of their total bill.
Food & beverages: if hotel-owned restaurants are used for meals, then charges for each meal are added individually.
Guest using drinks and snacks provided in the room fridge are also charged for those food items, and each detail is mentioned on the invoice.
Special services: if guests order special services like massage sessions, fitness gyms, or any other facility provided by the hotel, they are charged for each service.
Parking fees for parking vehicles and guarding them at all times are also included in these charges.
Total amount: the total of all these individual charges is mentioned, and in the case of a discount, a special amount is deducted from the total bill, and that bill is payable by the customer.
Hotel invoices are designed and printed by hotel management; therefore, the invoices of different hotels may differ from one another. They serve the purpose of informing customers about their total spending and where it is spent. After bill payment, these invoices are stamped to ensure that the bill has been paid and customers can leave the premises.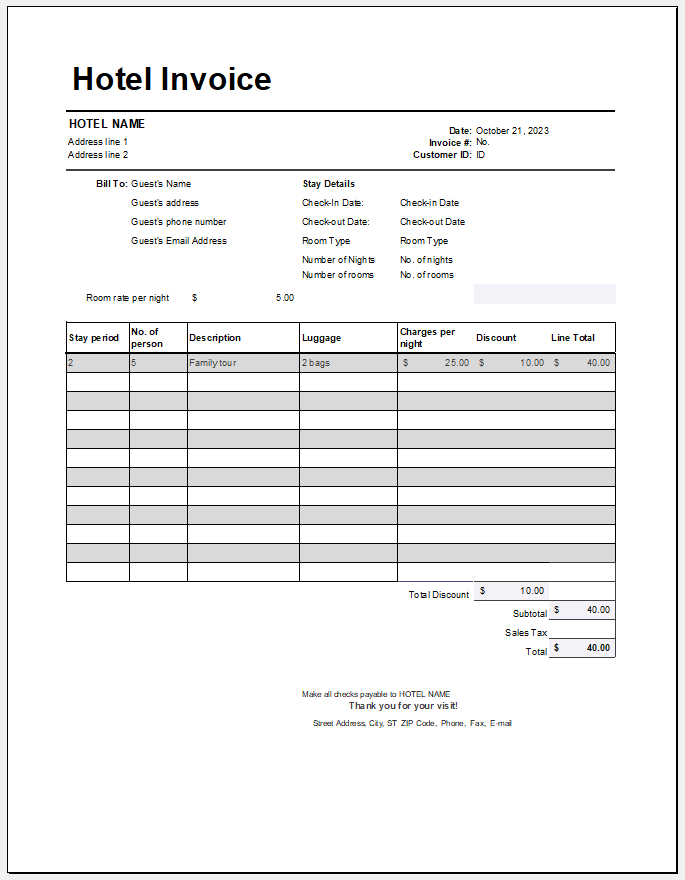 Hotel Invoice File: 87 KB