We all wish to be able to afford to buy a home. Buying some property is not something that is easy. You need to consider many things before making a decision on which one to get. A bad decision will ruin the complete home buying deal. It is, therefore, necessary to avoid unwanted mistakes.
What is a Home Purchase Checklist?
A home purchase checklist has a list of important tasks that need to be done whilst purchasing a home. It is for those who wish to buy a home and is confused about the ways to get things done.
If you need to create a home purchase checklist you can consider the below points:
Microsoft Word– The checklist can be made in Microsoft Word.
Title– Give the checklist a title like "Buying a home checklist" or something like this.
Address– The address can be given clearly at the top.
Details to include– A table can be made which will have important details. The details will be of those things needed in a home. This will be how many bedrooms, bathrooms. The total square footage also should be stated. If there are any bonus rooms list these. The amount of rent if applicable. Terms of the lease should be stated. The location of the property needs to be given. If you want to take pets with you, have a row that states whether pets are allowed or not. Is there any on-site parking? You should tell whether there are any utilities included.
The security system needs to be known. The heating, cable, internet access details should be listed.
Is there any on-site storage and on-site laundry facilities? Tell whether there is a fireplace, vaulted ceilings.
Mention what type of floors there are. This can be carpet, hardwood, tile, etc. The view seen in the house can be mentioned. This can be water, city, mountain, etc. You can even include whether there are a fitness facility, pool, and club room Is there any facility for social events? Mention the on-site management options.
The age of the building can also be given. Have a row that states the other features present. These details will help you know what the house has.
Basic facilities– Make sure that the home should be nearby all basic facilities. This includes shops, markets, schools, transportation, etc. This is necessary or else complications get faced later on.
Advantages of a Home Purchase Checklist:
The advantages of a home purchase checklist are:
The checklist gives those steps that need to be taken when pursuing the full inspection of a house's condition. This is the main thing that needs to be considered when buying a home.
It lets the user collect all information concerning the house which should be gathered when making the decision concerning whether to purchase a home or not.
A home purchase checklist is a checklist that is important as it helps in making a decision of whether to buy a home or not, a very big decision.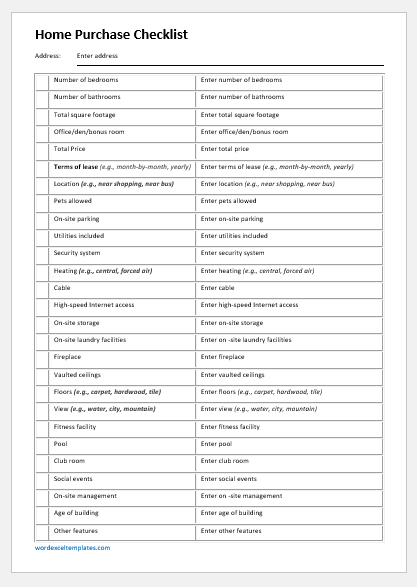 File: Word (.docx) 2007+ and iPad Size 51 Kb |
Download
---