A recommendation letter is written to provide a supportive reference regarding a candidate. When a person writes a recommendation letter for someone they are attesting to the candidacy of that individual. It highlights the distinctive qualities of the candidate and portrays them in a desirable light. Recommendation letters are required when a student is applying for an educational program or scholarship and when a person is seeking a job.
For writing recommendation letters
Pro Tip: If you don't have any nice thing to say about a candidate then politely decline the request rather than writing false statements about someone. Think very hard and very carefully before agreeing to write a recommendation letter. Not everybody is equipped to be well versed.
Writing a recommendation letter is a big deal, it is suggested to write a rough draft twice before moving on to finalized content.
Before writing you should know the exact knowledge and the purpose of the letter. The writer should know whether the receiver will be a university or a firm or they could write according to their understanding.
The writer should know what the candidate wants to highlight and put forward through this letter. Focus on one or two traits. For example, some people have excellent people skills so when they apply for a Public Relations job and expect their recommendation letter to glorify them as a people person.
Most importantly; before writing a recommendation letter must know the candidate on a personal level to recommend them. Do background search if you are not acquainted with the candidate, authenticate your information.
Often people try to get casual while writing recommendation letters, ProTip Don't. You are writing a formal letter which influences their fate, this should be taken seriously; so, follow the formal method of recommendation letter writing and exhibit professionalism.
Demonstrate a sense of closeness with the candidate which is possible by explaining your relationship with the candidate and evaluating them on a human level. There is a thing called "Human Factor" when a person demonstrates personal relation it emphasizes on the human factor.
Comparing the candidate with other acquaintances to present them a better option increases their chances of being selected. For example; mention that candidate is better than his course mates because…. (Point out their quality).
While writing candidates should update recommenders regarding their achievements, even the smallest ones. They should assist in highlighting their relevant qualities by providing real-life examples.
Write about all of their achievements but focus more on their character, their qualities but don't over-do it.
In the end, conclude with the direct recommendation that shows recommenders sincere effort to support that candidate. For example, He is a remarkable employee any firm will be lucky to have him and I suggest you allow him to work with you.
Provide your contact information so if someone wants to ask some questions about the candidate they could contact you.
After completing the first draft of recommendation letter show it to the candidate to authenticate whether the provided information is sufficed or does it require tweaking and then show it to a professional writer to check the room for improvement. Once done put it aside and re-check it after a few days with a fresh pair of eyes.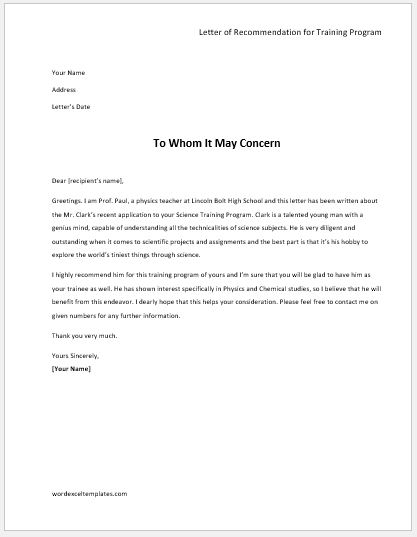 File: Word (.docx) 2007+ and iPad Size — Kb |
Download
---