It is a basic need nowadays to be fully prepared for going on to trip whether it is a business trip or a trip with your family. Not having everything planned can give you some disastrous experiences that you may want to avoid at any cost. Taking help from a pre-designed to-do list is the best idea for those who want to make their trip a memorable experience of their life.
What is a going-to-trip checklist?
It is a comprehensive to-do list that provides its users with the step by step guide so that they can pack their bags and make all the necessary arrangements before setting out for a trip. People who want to see everything in the best shape often feel so overwhelmed because they want everything to be alright. Sometimes, they try hard to achieve this but fail because of their inability to plan everything. For such people, a checklist can be very helpful.
Factors to consider while using the checklist:
Using a template can be a useful thing for you. However, you cannot always simply find a template and then start using it without considering it. A few factors that you should consider are:
Necessary gears:
It depends on your personal choice and needs as to which gears you would like to take along while going on the trip. The checklist might not suggest you take all the gears. So, when you are creating it, you should keep this factor in mind.
Consider the season:
Going to the trip checklist can be followed if you keep season-specific clothes in your luggage. If you are using a readymade to-do list, you should know which kind of clothes you need to pack.
Consider the length of your trip:
How much you need to be prepared depends on the length of the trip. The checklist also varies with your needs and requirements. You can make a checklist for a one-day trip or for a trip that is going to last a little longer. This will help you avoid certain problems.
What is included in the going-to-trip checklist?
This list includes the following items that everyone should take into account before they move for a trip:
List of documents:
Whether you are on a private trip or it is a business round, there are several documents that you must keep with you such as your identity card. When you are traveling by air or you have already booked your room, the list of documents to be taken along will get lengthy.
List of financial sources:
It is never a wiser approach to depend on the cash that you are taking. This list reminds you of keeping other financial sources with you so that you can keep a backup plan with you. This often includes debit cards, credit cards, or details of the mobile account.
List of travel aids:
There are many things that you need as a travel aid. So, they should be with you all the time.  For example, you should keep a first aid box in your bag as getting injured while you are traveling is possible. This list also includes things that you need to entertain yourself such as earphones, books, pencils and paper, and much more.
List of appliances:
Off course you will never forget to keep your cell phone in your pocket while setting out for a trip. But do you know there are so many other handy and compact appliances that you might need while traveling or at the destination? Laptops, torches, chargers, and external memory storage are some of the most commonly used appliances by people who go on a trip of any sort.
Is going to trip checklist useful?
Many such people always forget to take several things along when they are traveling. Oftentimes, this puts them in hot water. To avoid such a situation, using a list that reminds of you all the important things to take along is a wise approach. Once you have got your hands on it, you can use it as many times as you want every time you embark upon a journey.  
About Checklist
Some of the important stuff, which the traveling checklist template allows you to remember during your trips include:
Passports, identification cards, and driving licenses, especially if you're moving out of the country.
Knowing about the transportation arrangements in advance can help you move from one place to another without any serious issues.
Important medication prescribed to you by your doctor.
Camera and other entertainment stuff to make your trips more fun.
Books, airline tickets, personal belongings.
Clothing, credit cards, laptops, and cell phones.
Addresses of the key locations and important phone numbers of friends and family to stay in contact.
Preview and Details of Template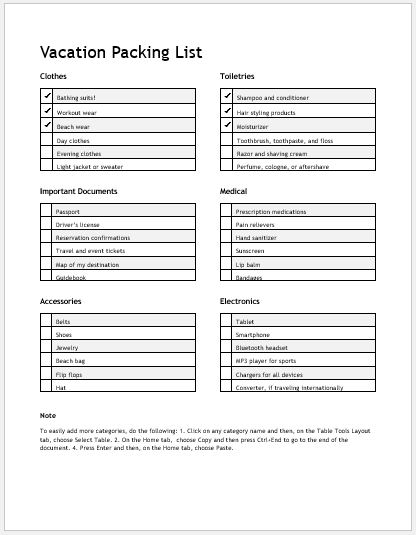 File: Excel (.xls) 2007+ and iPad
Size 26 Kb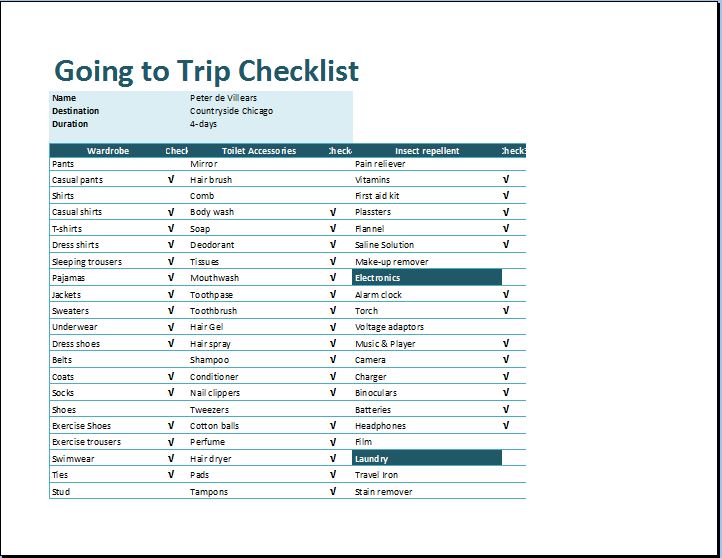 File: Excel (.xls) 2007+ and iPad
Size 26 Kb