For an important event that was not attended due to some reasons, it is a nice idea to write a formal letter to excuse for not being able to attend. This is called an excuse letter and written by a person to friends, family members, near and dear ones, and all those who share common interests with him. In other words, it is known as an apology letter. Our life is full of events. These may either be related to happiness or even sorrows. Every event is organized and celebrated in a certain way keeping in view the norms and customs of a particular society.
Our friends and family members want to share their happy events with us. Sometimes, it may happen that we may not be able to attend any event for any reason. So, in order to save relations, we need to say sorry to them. If, for instance, it is not possible, write an excuse letter straight away. Excuse letter can be written for not attending:
Business meetings
Birthday party
Funeral ceremony
Marriage ceremony
Letter -1
20-04-20XX
Andrew Johnson,
43-M, Michigan.
Subject: Excuse letter for not attending the birthday party
Dear Johnson,
Happy birthday to you from the core of heart! I hope you enjoyed that event a lot. I want to say sorry to you because I did not attend your birthday party. I know well that you are angry with me. Being your true friend, it was my heartiest desire to attend your birthday party because I had a surprise for you. I had never thought of missing an important event like this.
On that day, I was on the way to your home. Suddenly, my sister called me that her mother in law had met with a severe accident and was brought to the hospital. Without wasting any moment, I diverted myself and went to the hospital. She was in critical condition after having lost a lot of blood. Her son was out of the country and I was the only person to attend her there along with my sister. I had to arrange AB + blood for her before she could be operated upon. Doctors took her out of danger after 5 hours of risky operation. Suddenly it came to my mind that I had missed your birthday party. I could not do anything except asking you for an apology.
I hope you will understand my condition and our friendship keeps flourishing.
Regards,
Anderson.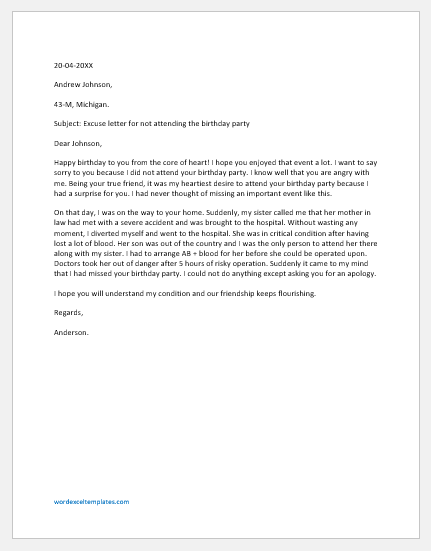 File: Word (.docx) 2007+ and iPad Size 19 Kb |
Download
---
Letter -2
20-04-20XX
Alex Stewart,
M-67, Michigan.
Subject: Excuse letter for not attending a business meeting
Dear Alex,
I hope you will be enjoying good health these days. It was my utmost desire to attend the seminar which was organized by our company at the Grand Palace Hotel this Sunday. I was very excited about it. Just a few hours before the seminar, I felt some pain on the left side of my chest. It increased gradually within a few minutes. As a result, my son took me to the hospital emergency, and the doctor suggested to me ECG.
On a detailed examination of ECG, the doctor filled me with the shock that the pain which I was feeling was a mild heart attack. A team of doctors started treating me until I was out of danger. That night and the net whole day, I was kept under strict observation. Afterward, I was allowed to go home. Owing to the situation, I did not attend the seminar.
Whatever happened that day was unintentional. You also know how excited I was about that seminar. I never wanted to miss that. So, keeping in view above mentioned situation, please accept my excuse as I did not do it deliberately.
I hope you understand my problem and consider my name for the next batch to attend the seminar.
Regards,
Anderson.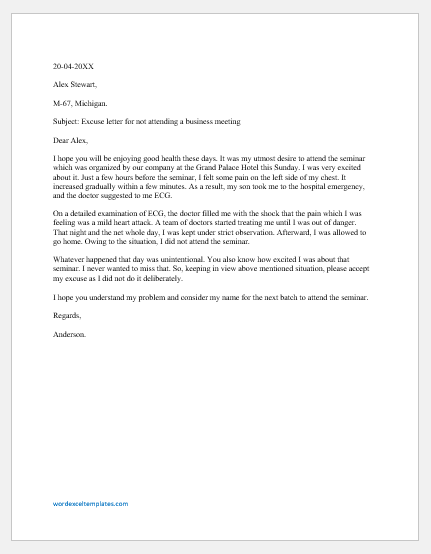 File: Word (.docx) 2007+ and iPad Size 19 Kb |
Download
---