Employees are the driving force of an organization. As a matter of fact, the success of the company largely depends on the prowess and productivity of the employee. In addition, enthusiastic employees also play a major role in making an organization grow and prosper. Companies also keep rewarding those employees who work keenly and show responsible behavior towards the work they are tasked with.
Just as the company rewards the employees upon showing good performance, some companies also show concern when they find out that the performance of the employee is declining day by day.
What is an employee performance concern letter?
This is a special type of letter in which the employer writes to his employee and shows his concern. In some organizations, this letter is also known as a letter of reprimand because the employer admonishes the employee for not showing good performance. In this letter, an official statement of the problem is made. These letters are usually considered as a step towards a disciplinary action such as a warning letter. When an employee receives this letter, he should take it as a hint that if he doesn't improve his performance after having this letter received, he should be ready for serious consequences.
Why is a performance concern letter written?
The purpose of this problem statement is to let the employee know that his performance is being monitored and the employer is not satisfied with his performance. The employee is also told that he is expected to improve his performance because his poor performance is a matter of concern for the company. The performance concern letter is for people who have been showing good performance. However, now their performance is deteriorating and the reason is not apparent.
How important it is to write the concern letter to the employee?
In organizations, the letter of concern holds a significant place. Companies use these letters not just to criticize the employee and ask him to improve. Rather, they use it for documenting the performance of the employee and then use it for making certain decisions regarding the promotion of the employee and in many more similar scenarios. These letters are helpful for organizations because they enable the company to clearly state the performance of the employee that needs to be improved. Companies also let the employee know about the consequences if he does not improve his performance.
What are the basic elements of the concern letter?
Whenever an organization chooses to write this letter, it makes sure that it includes the required details in the letter appropriately. All the effectively written performance concern letters usually have a few details in common which are given below:
Tell the employee about your concern:
At times, the employee is even not aware of the fact that his performance is no longer up to the mark. So, the company should tell him that his performance is not being liked and this has become a matter of concern for people in authority. Employers usually don't want to see their employees showing bad performance. So, this unsettles them and compels them to write a letter to the employee.
Tell the ways for improvement:
Employers with a professional approach don't only criticize their employees. Rather, they try to help them improve themselves. So, if you are one of them who want to improve others, you can give many examples to make the employee learn different ways to improve. You can also tell the employee about all the possible changes that you are expecting him to bring to his personality to perform in a better way.
Give a timeline:
Although it is not mandatory, you can provide a timeline to the employee within which, the employee should improve his performance. This strategy is good when you want to speed up the process of improvement in the employee.
Explain how poor performance is impacting the company:
Many employees don't take the letter seriously because they think their performance does not matter especially since everyone around them is working hard. In order to ensure that the employee does not think like that, you should tell him how important it is for him to improve his performance and how his bad performance is unsettling everyone.
Sample Letter
1-
Re. Performance Concerns over [X]
Dear Monica,
I am writing this letter to express my concerns about the appalling performance of our Assistant Finance Manager, Mr. David Rose who has been displaying a lack of interest in the work and derelict negligence in important projects. The projects related to finance and consultancy need a lot of careful handling and heedful attentiveness.
Mr. Rose has been late at work for one week without informing management or his supervisor. Moreover, he has been working on the ARF-190 project with remission, and his reports are found to have several inaccurate data entries. Many of the dates mentioned are not accurate and the performance quality is very poor. I have also been receiving many complaints about insubordination and hostility. He has been unwilling to take responsibilities and instructions from his immediate supervisor and being hostile to his coworkers.
Following points of performance have been mentioned in the employee grand report of June 20XX
Mr. Rose has dealt with total clients that are 30% lesser than SMC.
He has surpassed the annual leave allowed for employees according to the Employee FDM Act 2018.
He has been late to the office several times without informing the relevant department in the past three weeks.
Mr. Rose has been looking into his personal belongings and issues while staying in the office.
You need to investigate this immediately and take strict disciplinary actions against Mr. Rose. You are required to submit an ET report as soon as before 5th July 20XX otherwise the Board of Governors shall take other disciplinary measures or other corrective steps. Thank you.
Regards,
Jolen Hatwood
Managing Director
OPS Groups
P-9011 Golf Park Street, San Diego
CA, USA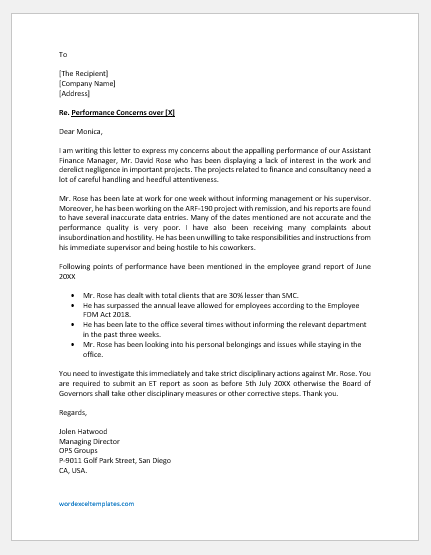 File: Word (.docx) 2007+ and iPad
Size 28 Kb
Download
---
2-
Re. Performance Concern for [X]
Dear Kellen,
This letter has been written to showcase my grave concerns about your performance report submitted to the Employment MSM Records of June 20XX. This letter is written to formally reprimand you on the matter of attendance that is affecting your repute and image in the company as a competent and capable employee.
According to the company policy of Office Hours and Working Directives 20XX (updated) for fresh employees, a workweek consists of forty-two hours whereas you have completed thirty-two hours in the week 14th June 20XX to 18th June 20XX and thirty-fours hours in the week from 22nd June 20XX to 26th June 20XX. The performance in the month of June 20XX has also been considered as very poor and low on productivity according to your supervisor and director of the Development and Planning wing.
I believe you are a professional and competent employee, but such type of negligence and carefree attitude always put a question mark on your competency. Moreover, lagging over unfinished assignments, making the workplace your zone of personal relationships is also one of the most unwanted demeanors of an employee. The company has a certain pattern of rules that are to be followed by every employee including the UTI sector. In case of not correcting the mentioned points, you might have to face strict disciplinary actions. Please write to me in response at [X] or call me at +[X] from 1 PM to 3 PM.
Thank you.
Best Regards
Jen Margret
General Manager
Hopkins Group
LT-190 Helen Street Las Vegas
CA, USA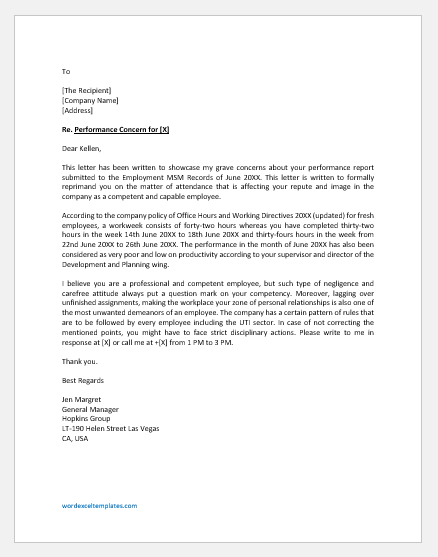 File: Word (.docx) 2007+ and iPad
Size 21 Kb
Download
---