When one begins a partnership, they do not think that the time will come to end it. But this case is possible especially when one gets a loss due to it. If this happens it is better to terminate the partnership. To do this you should be professional and send a partnership to break up letter.
What is a partnership break-up letter?
A partnership break-up letter is a document that expresses your intention to stop doing business with the partner. The letter will explain the reasons why you have decided to stop working with the partner. It can highlight what you wish to pursue after ending this partnership.
Importance of a partnership break up letter:
The letter is a professional way to inform your partner that you want to quit the partnership. It can be kept for legal purposes if needed later. Both parties can access it when needed to prove any point. The letter will save the business from getting many losses later on.
Tips to create a partnership break up letter:
The partnership break-up letter is a professional one that should be written showing respect to the other party. The following tips can be kept in mind when making it:
Microsoft Word: You need to choose the best application to type the letter in. Microsoft Word is helpful to do this. Choose a good font to write the letter in. It must be a professional one and not a childish one. Select a readable size.
Use polite language: It is important to show your professionalism and be polite when writing the letter. Your words should not be rude.
Follow a professional format: The letter must follow a proper format. This will show the other party the seriousness of it.
Address the recipient: Start by addressing the recipient. You will write "To" and then their name and business address. State the date that the letter has been written on. This is necessary when one needs to consult it later.
Subject: The subject of the letter tells what it is about. The reader can get to know what to expect from it. The subject can be something like "Letter for ending the business partnership." You will then address the recipient with something like "Respected" and then their name.
Arrange in paragraphs: Write the letter in short paragraphs which clearly explain what you wish to convey. The first paragraph will inform the reader that you want them to know that you wish to end the business partnership. In the next paragraph, you can state when the partnership got established and for what reasons. The next paragraph can state what the partnership deal involves and how the other party is not able to fulfill the requirements. After this, you will state how your business is finding it tough to uphold the deal and carry out the requirements of it. You will state that when the partnership has ended, assets will be shared equally.
End the letter: End by hoping to get a response and the hope that the recipient will agree with you. Then state "Regards" and your name.
Make letter precise: No one has time to read a complicated and long letter. You should be precise and only include the necessary details. Use simple language that is easy to understand. You need to convince the other party that you are finding it tough to continue with the partnership. Find logical reasons that will be able to confirm this. You do not want to make the partner angry therefore be polite concerning anything that you say.
Final Words:
Ending a business partnership is no easy decision. You will have solid reasons for doing this. Just as you professionally started the partnership, end it like this also. Create the partnership break-up letter for the purpose. The letter will show the partner your professionality in ending the relationship. Make the letter follow a proper format and it should be easy to understand by whoever needs to read it. Include logical points that show why you have decided to take this step. You can include contact information concerning where and when the partner can contact you to proceed further.
Sample Letter
Subject: Partnership breakup letter
Dear Andrew,
It was my pleasure to establish a very long business partnership with you. I appreciate how swiftly and courteously you engaged yourself in fulfilling our business demands and delivered all the orders on time. We both enjoyed this partnership a lot and earned a profit, goodwill, and name in the market. This is only due to our partnership if we have enough capital to manage our businesses separately.
Regretfully, here comes the time to break our long-standing business partnership. I know it's a hard decision to make but due to recent fluctuation in product quality and suspicious activities from you, I have been forced to act like this.
Moreover, you know we were having some issues regarding our employees. The quality of your labor work has also deteriorated over the last three months. Before we develop further misunderstanding, I thought it necessary to look for another business partner.
After a comprehensive search, I have found a supplier, named XYZ. He agrees to deliver our orders as per our demands at a very low cost as compared to you. Therefore, with effect from 1st July, our partnership will stand broken. This decision has been made considering the sensitive and competitive nature of our products. Customer satisfaction is our top priority and we try hard to produce top-quality products at the minimum possible rates.
Since our next meeting is decided on Monday, you are requested to sign an affidavit after the termination of our partnership. Our terminated business partnership must not be taken in a negative way. We have great respect for your company and were happy in maintaining good business relations with you.
Unfortunately, we simply cannot continue doing business with you due to the unavoidable circumstances mentioned above. Lastly, I want to say that it was my pleasure to establish a partnership with you. I hope our friendship will never be affected by this decision. We shall act as good competitors and friends at the same time. Wish you all the best of luck.
Sincerely,
Anderson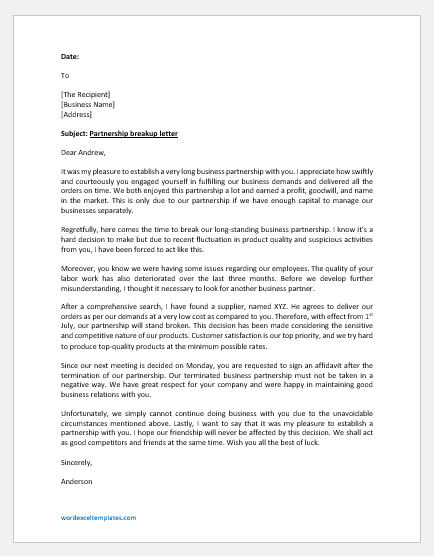 File: Word (.docx) 2007+ and iPad
Size 22 Kb
Download
---