An employee character certificate is a document that certifies and verifies the good moral character and conduct of an employee. This certificate serves as a proof of morality of an employee during the tenure of employment in an organization.
A current or old employer can serve as a character reference and can issue an employee character certificate. It is not a legal obligation on employers to issue this certificate. Nevertheless, if an employer is certain of an employee's character, usually, he/she is not reluctant to issue this character certificate.
A character certificate is useful for an employee in various circumstances.
When an employee leaves a job and wants to start a new job, the new employer might require a character certificate of the employee from an old employer to ascertain that the employee has not been involved in any immoral or illegal acts.
Sometimes an employee may request his/her current employer to issue him a character certificate which may have to be used for different purposes.

If an employee wants to apply for a visa or immigration, employee character certificate is a prerequisite.
If an employee wants to apply for higher studies, the character certificate is requested by the universities.
If an employee has to undergo some government procedures, the government asks for such a certificate.
If an employee is mistakenly involved in a lawsuit and the employee wants an evidence to prove him innocent, his lawyer might ask him to seek his employer's help and get a character certificate issued.
An employee can use one character certificate for different organizations. However, generally, the validity of the character certificate is one year after that the employee needs to get a new one.
An employee character certificate can be designed in programs such as Microsoft Word or the existing templates in such programs can be used as well. There are only slight variations in the format of this certificate across companies or countries. However, overall, the general format includes:
Date
Name and details of the employee
Tenure of employment
Name and details of the employer
Signature of the issuer
Verification statement about the good moral character of the candidate
The certificate is stamped with the company stamp and serves as a guarantee by an employer in which he assures to the best of his knowledge that the employee possesses a good moral character.
Sample Employee Character Certificate Statement
Date
Name
This is to certify that
Ms. Emily John has worked as a [TEXT] employee for our company 'The Caring Home' from 12th January 2016 to 16th March 2018 for a period of two years and two months. We found her a person of good moral character. Her conduct throughout her tenure was outstanding.
Her job responsibilities included taking care of the people admitted to our organization. She always dealt with people of all ages calmly and never did we get a complaint regarding her harsh or rude behavior. She was one of those employees with whom everyone wanted to work because of her professional and disciplined approach.
We feel happy and proud to verify her good character and to the best of our knowledge, she has never been involved in any legal case.
We wish her the best of luck!
Name
Signature
Preview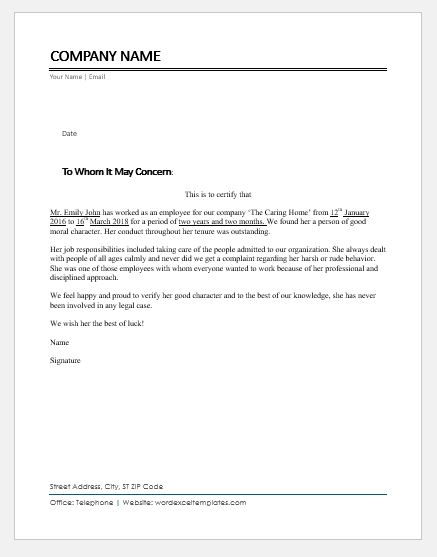 MS Word [.docx] | Download