Cash report worksheet
The cash reports are one of the most important documents that are used by the cashier in any business. A cashier uses the cash report worksheet to calculate all the cash along with other assets that are equivalent to the cash collected by him. The calculation of cash is usually done while closing at the end of the day or an open period.
At the end of the cash closing, you are required to collect the amount of cash, the credit card charges and the invoices with details. The cashier should sign the report after preparation. It is important to calculate the total beginning balance at the start of the shift.
A cashier can use the template for the cash report at the end of the day. He should enter the total cash amount in it.
Elements of cash report worksheet:
The report template should also describe:
The opening cash drawer
The cash receipts that have collected
Cash payouts
Granted credits
Detailed summary of all the transactions carried out through credit card
The credit routines at the end of the day may vary from the credit cards since they depend on the credit card merchant account as well as the verification software. The cash report prepared with the help of transactions each day is the subtotal of the transactions' aggregate.
The main purpose of using the daily cash report worksheet template is to ensure that the company is recording the transactions. It also ensures that the transactions are being recorded in sequence and their integrity is also maintained. After the daily cash report has prepared, it is the responsibility of the cashier to sign it and then submit it to the cash manager. The cash manager can review the entire report and check for all the errors.
The daily cash report template is a useful tool that gives a professional look to the report. Those cashiers who want to save their time can use the template before preparing a cash report. This template for MS Excel is readymade and easy to use.
Preview and Details of Template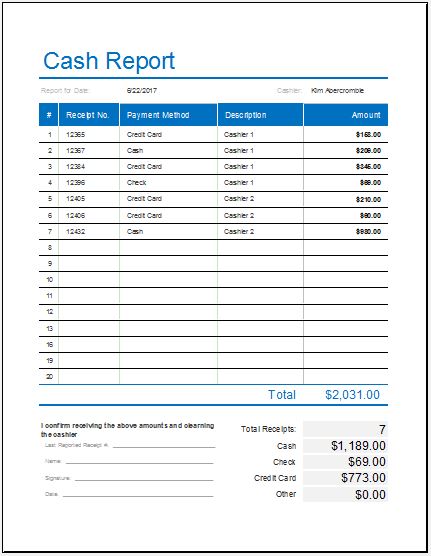 Daily Cash Report Template
File: Excel (.xls) 2003+ and iPad 
Size 31 Kb | Download
License: ENERGY [Personal Use Only]