Check registers
Check registers are the most important component of the accounting department of the firm. These registers are used to record the payments, purchases, interest, and deposits that have made in a specific period. It also serves as a running balance for the company.
If transaction codes are also written in check registers then these check registers are called check register with the transaction code. These transaction codes are used to identify the type of transaction. A check register is a useful tool for those people who want all the transactions of the company to be organized well.
Most of the businesses use the check registers to keep all the details of the transactions such as the transaction number, the date of transaction and lots of other details. This document is helpful in pointing out all the errors that may ruin your transaction record.
Elements of transaction check registers:
The code

: it is used to identify that which type of transaction has made.

Date

: The date on which the transaction is carried out

Payment Amount

: The amount of money that has withdrawn.

Deposit

: the amount of money deposited in the account

Balance

: total balance of the account

Description

: the details of the payee.
Some other details related to the transaction can also be added to the register since the more details it contains, more appropriate it would be for you to use. There are many details which the people forget to enter in their document of check register and make it less accurate. These details are:
ATM withdrawals
Payments of interest
Bank fee
Purchases made through debit card
Deposits details
The template for recording the transactions is available and ready to be downloaded from this website. This template is a beneficial tool for all those people who are running their own business and want to keep track of all the transactions that are carried out each day. This template also allows the user to edit some more details in it according to his own needs and business strategies. It provides an instant register with a number of transaction codes.
Preview and Details of Template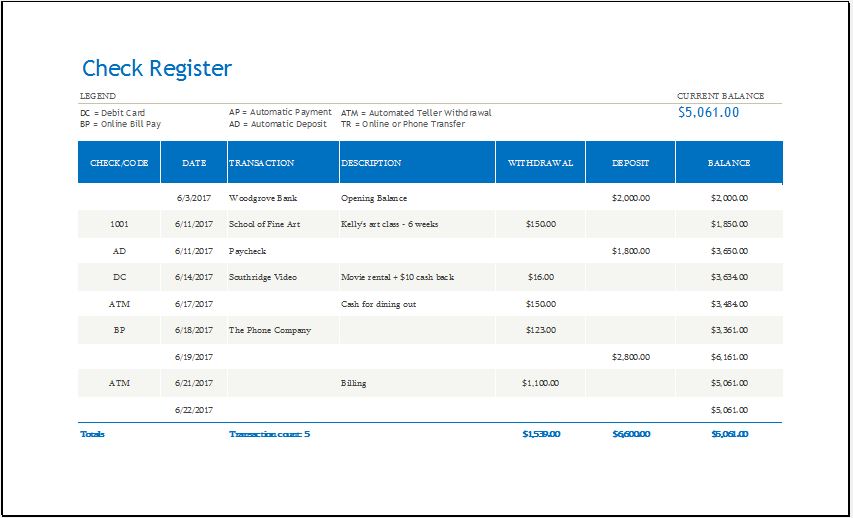 Check Register Template
[with transaction code]
File: Excel (.xls) 2003+ and iPad 
Size 45 Kb | Download
License: ENERGY [Personal Use Only]
---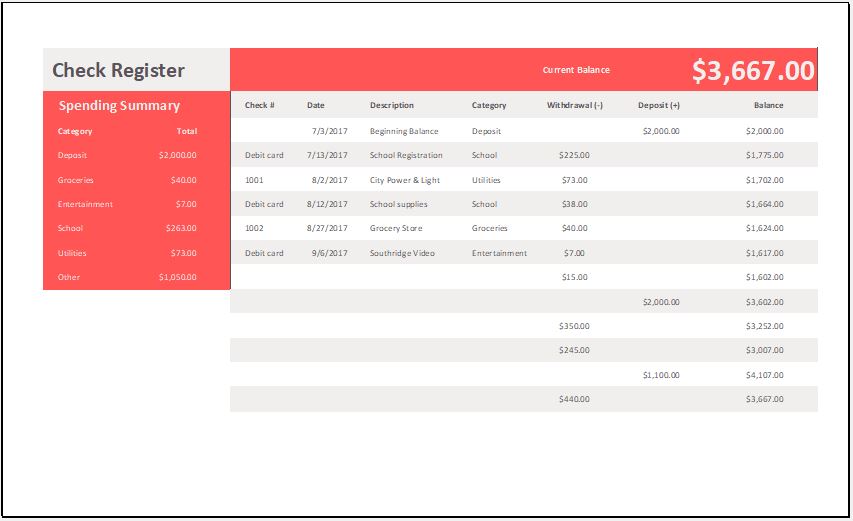 Check Register
File: Excel (.xls) 2003+ and iPad 
Size 19 Kb | Download