What is a construction proposal?
Many tenderers prepare a certain type of documentation for designing and constructing different buildings. This documentation is generally known as a construction proposal. In other words, the construction proposal defines the requirements of the client.
The scope of the services and the risks associated with the construction work are also stated in the proposal. The total cost of the project and the price of every service is also mentioned in the proposal.
What are the components of the construction proposal?
The components of the proposal may vary. In some cases, the construction proposal is requested by the client. In that type of proposal, the details to be added to the proposal are specified by the client. However, not all the proposals are written upon the request. The main details are the proposal of the construction company, price of the services and total cost of the construction project.
While writing the proposal, you should be aware of the scope of the work. The proposal should be relevant to the scope of the work. This will let your client know clearly what work you are intended to do. The client will not be able to ask you for more if he agrees to your mentioned scope and accepts your proposal.
Tips to write the construction proposal:
Tell the reader in the proposal that why your work stands out and what makes your work extraordinary.
Keep the proposal precise and brief. You can do it simply by removing unnecessary details from the proposal.
Make sure that the format and structure of the proposal reflect your professionalism. The details should be given in the proposal in a correct manner in order to increase the readability of the proposal
What should be included in the construction proposal?
The construction proposal should include the details about the agreement between the construction company and clients
Names and contact details of all the parties involved should also be written in the proposal
The complete timeline of the construction project should be written. This will tell the client that when you will start working on the project and when you will complete the project.
The total amount the client is obligated to pay to the construction company is mentioned in the proposal. This amount is the same that was mentioned in the construction agreement.
The terms and conditions of the agreement can also be specified in the proposal. However, it is not a compulsion to add them
The executive summary of the construction project is written. This section should write all the details of the project in a summarized way.
Construction proposal template:
The construction proposal template is also available to be downloaded free of cost. You can customize the template in order to make it suitable for the project you are offering your services to. The template contains a complete format of the proposal. All you need to do is modify the format to add the details you want.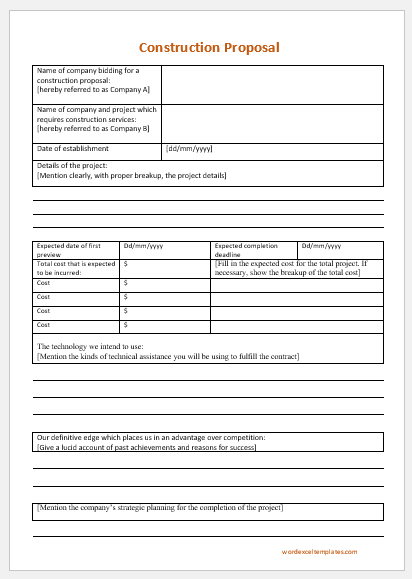 File: Word (.docx) 2007+ and iPad Size 25 Kb |
Download
License: ENERGY (Personal use only)
(Distribution) by Kate Elizabeth(CEO)
---