When you want to attend a conference, you will have to fill the conference registration form. The conference registration form has a lot of significance in order to make it successful.
What is a conference registration form?
It is a type of form that requires the person willing to attend the conference to provide his basic details in the empty fields of the form.
Why is it important to use the conference registration form?
It is a form that people use when they want to keep themselves organized. The conference of any type becomes organized as well as runs smoothly when the person organizing it gets enough details about the attendees. This registration form is a useful tool for all those people who want to quickly gather the details of hundreds of people without having to put any extra effort. 
What information is basically collected by a conference registration form?
The conference registration form gathers the following details of the person filling this form which are
Name of the attendee
Phone number and email address of the attendee
Qualification of the attendee
Dietary restrictions of the attendee
Whether the attendee wants to get VIP seat or the regular one
There are many additional details that you can collect through this form depending on the requirements and demands of the conference
What are the benefits of the conference registration form?
Using the conference registration form is very useful because it makes it easier for the person conducting the conference to determine approximately how many people will attend the conference. This will also enable him to know whether the conference has got what it wanted.
The registration form helps the organizer make arrangements of seats and refreshments on the basis of the number of people wanting to attend the conference.
The form ensures that the conference being organized will be conducted successfully since the record of the people who need to attend the conference has been taken.
For security purposes, the conference registration form is used. The use of these forms ensures that every attendee is in the record. In this way, unauthorized access to the conference hall is prevented.
Conference registration form template
If you also need to arrange a conference and you also want to know who is going to attend the conference and when you can use the conference registration form to compel everyone to provide their personal details. If you don't want to create the form from scratch, you can download the template of this form. The use of the template ensures that you have taken the necessary steps to make your conference smoother and securer at the same time.
Many companies provide the conference form on their official websites. People register themselves by visiting the website. You can also upload a form on your official website. It is better to create a unique form in order to get away with being criticized for stealing the form from someone's website.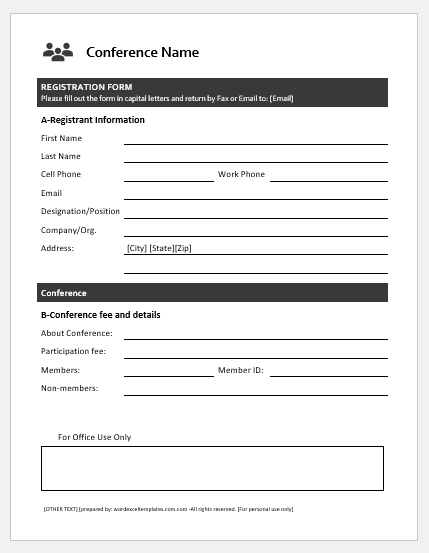 File: Word (.docx) 2007+ and iPad Size 1128 Kb |
Download
---