Letter #1
Re. Uninformed Deduction in the Salary of December 2020 for Misunderstood Undervalued Reasons

Dear Sir,
I am composing this letter to bring your kind attention to the matter of payment as the salary of December 20XX. I work as an Assistant Designer in the Department of Development and Extension in this company. Recently, I received my December 20XX salary which was already due on 8th January 20XX. I received it late because of internal affairs and conflicts in the Finance Section of the Company. The Section has been dealing with some grave internal conflicts for three months. I came to know about this a week ago from a colleague.
I received my paycheck in which an undue and uninformed deduction of 5% has been done. When I met Mr. Jen Hill in person to enquire about the reason behind the deduction, he told me that the deduction has been done due to my excessive leave in the previous month. After checking my personal record, I realized that my leave comes under the provision of medical leaves.
Also, I have not exceeded the allowed number of medical leaves. I discussed it with the HR Manager but he did not accede to my stance. According to him, it is a matter of the Finance Section; therefore he cannot get involved in this. When it comes to Finance Section, they opine that the matter can be settled by the HR Manager.
I am swinging between the rivalries of two departments like a pendulum. Sir, I request you to personally look into this matter and get the report. moreover, it is unjust to deduce the salary for medical issues during lockdown when everything else haunts and looks extremely unprecedented. I shall be grateful to you if you get this matter settles as soon as possible so that I can avoid the financial crunch to tighten anymore.
If you want to meet me in person, I am available during office hours, or you can also call me at +[X]. Thank you.
Regards
Denim Lowell,
The Assistant Designer,
Lockhart de' Beauvoir
Simone Square, California, USA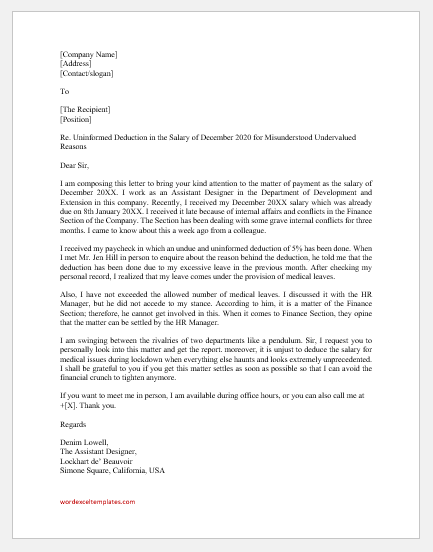 File: Word (.docx) 2007+ and iPad
Size 22 Kb
Download
---
Letter #2
Re. Filing Complain on the Implicit Salary Deduction during Pandemic and Strict Lockdown
Dear Sir,
I am writing this letter to you as a complaint filed with reference to the subject cited above. I am writing to tell you that my salary for the month of January has been deducted without informing me for implicit reasons. As I have confirmed from the other colleagues that this deduction is not applied to others. It means to say that either the finance section has made a mistake or they did it for misunderstood reasons.
Coming to the more accurate and factual statements, the finance manager did a 10% deduction into my salary telling me that this deduction was made because I had been taking unauthorized breaks during working hours. Sir, I want to make it clear that I never left the office without informing Ms. Jennifer who is the Assistant HR Manager. Jennifer has also clarified my matter with the Finance Manager, but he is liquefying my case neither for extended inquiry nor for suspension.
Sir, the matter is suspending for two weeks and no further action has been taken to resolve the matter. Therefore, I seek your kindness to personally involve in this case and get the issue settles down. There is an unprecedented lockdown out there due to the unkind hazardous pandemic.
To work during such difficult circumstances is not easy. Where the pandemic has struck the economy, at the same time it has struck the common person with inflation and a high risk of contamination to the virus. Therefore, I request you to cordially engage the supervisory committee and reschedule my paycheck. Thank you!
Regards
Jim Jacker
Assistant Consulate, IRA
Stigma Funds Marketing and Business Developers
8th Floor, Stigma Heights, Edward Avenue, California, USA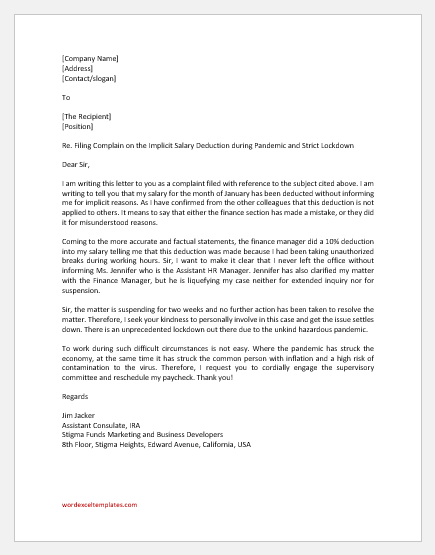 File: Word (.docx) 2007+ and iPad
Size 22 Kb
Download
---