Letter #1
Re. Complaint on the Overcharging of the Water Services Consumption for the Month of January-February 20XX from W&SPCA. 

Dear Sir,
I am Smith Oliver from the Union County of New Jersey. I have been living in the F-Town area of Summit since 20XX. It has been more than twelve years of me living here. I have always been paying all my bills and taxes in time. I never missed a single bill while my living here in Summit. Similarly, my tax record is clean and completely satisfying. I am confronting an issue these days and that is how I am writing to you to request you into this matter.
Sir, I am 24 years bachelor who spends most of his time in university, working in the cafe, and studying in the library. I barely spend a few hours at my apartment while I sleep, dine, and do other essentials. I barely consume more than a few Oz of water reconciling with my necessities and consumption.
The charged bill for the month of January-February is $200 which is twofold more than my usual billing of water and sanitation. I am much worried as I am not able to pay the bill. I am a law student and work as an Assistant in a cafe to meet my general expenses.
I shall be very grateful to you if you investigate this and resolve if some sort of complication is exacerbating my water consumption charges. I have also checked all the pipelines to make sure no leakage at my end. I have also checked the recent data on water and sanitation billing, according to which no acclivity in the charges has been made by the government. Grounding on the older rates, it is nearly impossible for the water bill to be this high.
Please make me gratified by looking at and resolving this. You can email me for any kind of procedural inquiry at [email]. I thank you in anticipation for reviewing my complaint.
Regards
Smith Oliver
56-C Lockhart Housing, UC New Jersey, CA
USA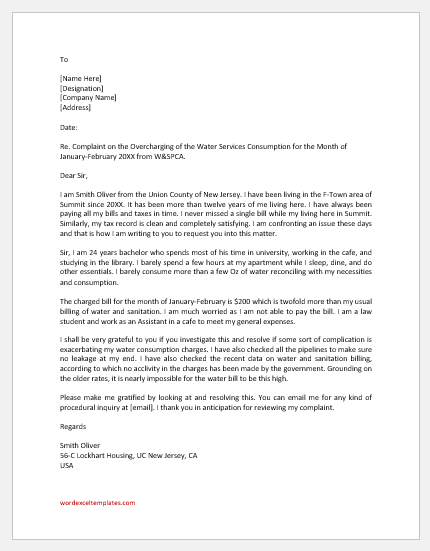 File: Word (.docx) 2007+ and iPad
Size 22 Kb
Download
---
Letter #2
Re. Complaint on the Overcharging of the Water Utility and Consumption Bill from the State-Controlled Water Consumption and Sanitation Systems of CA (WCSS) for the Consecutive Three Months
Dear Sir,
With reference to the above-cited subject, I hereby submit my complaint about the overcharged bill of the water and sanitation controlled by the Water and Sanitation Systems, California. As I already filed complaints to the regional office of the WCSS in Sacramento, CA but neither response was given nor was my extra billing halted. The Assistant Director of the regional office of WCSS did not bother to listen to me when I physically appeared in the office to register my complaint the third time. My three complaints to the regional office remained to lie on the office tables and met with an unsatisfactory and unprofessional response.
Sir, I share my apartment with my brother, but the bill shows that the consumption which has been made in the last three months can accommodate three joint families. Sir, I request you to enquire your team to investigate this either by examining the pipelines or by looking for the technical or database errors. I am hoping for a refund of the extra paid bills and the settlement of the issue with an appropriate and professional inquiry.
Moreover, I have attached all the details with this letter for your convenience so that you can find the difference between earlier bills and the bills of the past three months. By comparing the two you will understand the difference and justification of this letter.
Please find my personal details and bills attached. I thank you in anticipation hoping for a good deal of cooperation from you.
Regards
Mike Addison
90-G, G-11, G-Sector Funnel Road, Near Books, and Lore
 Sacramento, California, USA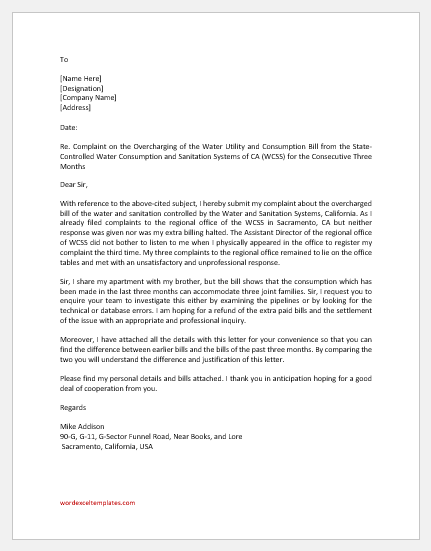 File: Word (.docx) 2007+ and iPad
Size 21 Kb
Download
---