Letter #1
Re. Justification Letter for the Recommendation of Promotion

Dear Sir,
I am Steve Lowman, the Assistant Developer in your company. I have been working here for the last four years. I have been committed to my work and been a very industrious and honest employee. I have been hard-working, professional, and very dedicated to my work during my employment in this company. I joined this company on 28th January 20XX with this comment that I lack the experience to be posted on the designation of Manager. After an evaluation and two-day training, I was recruited as an Assistant Manager by saying that I will be promoted on the designation of the manager once I complete a certain time here and get the required experience.
Sir, this day marks the completion of my four springs in this company as an Assistant Manager. I have enjoyed working as an Assistant Manager and thus I learned a lot during these years. It added so much to my faculties and capabilities and made me able to request a promotion. Sir, after spending four years I realize that I have gained all the required experience in the field of management that I can be promoted as a Manager.
Moreover, after the resignation of Mr. George Addison, the designation of the manager has been lying vacant. On the grounds of my gained experience, closed area of work, and spending four promising years of job, I cogitate that I deserve the promotion to the vacant seat of Manager. I shall be thankful if you take some time out to consider and review my justification. Please respond to me at [email]. Thank you.
Regards
Steve Lowman
The Assistant Manager
I-Labs Area Services
56-M F-4, D Square, California, USA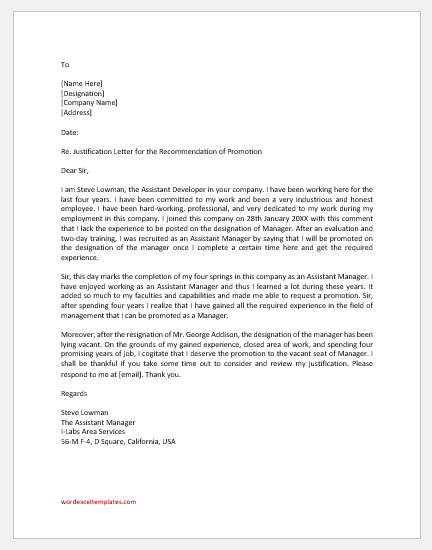 File: Word (.docx) 2007+ and iPad
Size 21 Kb
Download
---
Letter #2
Re. Justification for the Promotion into Department of IT and CAA
Dear Noah,
This is Emily Krupet from the department of Designing and Marketing. I am writing to you to bring your kind attention to the matter of my promotion. On 22-01-20XX, I wrote to the management requesting my promised promotion into the department of IT and CAA. I got no response from the management. They neither responded nor forwarded my request to the higher authorities. It impelled me to directly send my justification letter to you requesting the deserving designation of IT Manager.
Sir, I have done my graduation and major in the field of IT. At the time of hiring, the company needed an employee to work in the Human Resource as due to internal affairs of the company, hiring in the IT and CAA were suspended for a certain period of time. As I had been already provided with the call letter, I was asked to serve in the Human Resource for some time and then I will be promoted to the vacant designation of IT Manager. It has been sixteen months since my recruitment, but I could not get promoted to the Department of IT and CAA.
Looking at my major subjects and expertise, I request you to promote me to the department of IT and CAA as an IT manager. I also assure you that I will keep contributing partially to the managerial tasks added to the work of IT management. I shall be grateful if you review my request. I am looking forward to your kind response.
I thank you in anticipation for considering my request and reviewing it. Please find the required documents enclosed. You can respond to me at [email].
Regards
Emily Krupet
Assistant Developer
Department of Designing and Development
PMDCK Groups
45-C/46 Second floor Grip Lights California, USA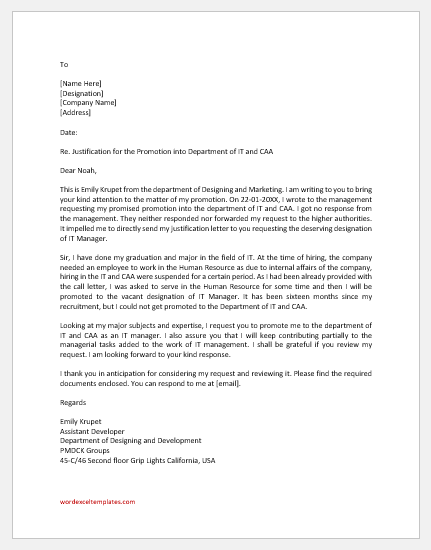 File: Word (.docx) 2007+ and iPad
Size 21 Kb
Download
---