What is a commercial lease negotiation letter?
Whenever a commercial space is leased, there is a lot that is between the landlord and the tenant which needs to be talked over. The negotiation includes the matters like the length of the lease agreement, who will pay for the renovation of the commercial building, and lots of things of this ilk. In the end, both parties settled down on mutual interests. This all happens due to negotiation letters.
The negotiation letter is usually written by the landlord and he includes all the terms and conditions regarding the lease which the landlord and the tenant have already discussed. This letter gives a quick review.
Things to remember before writing the commercial lease negotiation letter
Writing a negotiation letter to your potential landlord is a challenging task before you don't want to put a bad impression on him and ruin everything. Furthermore, you don't want to show your willingness for something that might turn out to be less favorable for you in the future. So, you need to sit back and think carefully. We have some tips for you:
1- Know your business needs:
Everyone writes the negotiation letter keeping their own business needs in their mind. Everyone in the business world has their own needs and they want to be met. This is the reason people choose to write negotiation letters. So, when you start writing this letter, you should keep this fact in mind that you also know your business needs. In this way, you will be in a better position to negotiate.
2- Know your rights:
As a potential tenant, you have some obligations as well as rights. If you don't know your rights, you will not be able to negotiate well. When you are well aware of your rights, you will never be exploited by the landlord. To get proper information regarding your rights, you can take help from a lawyer also.
3- Be clear as to what you want:
Every business likes to lease a commercial property just because it wants to gain some profit. There are also some other benefits that a business wants to achieve. Your negotiation should be based on those benefits. In case your benefits are much bigger are things you are negotiating for; you can give up on negotiation and think of those benefits. However, if you know that you are right, then you don't need to settle for something less than what you deserve.
To help you start writing the lease discussion letter for a commercial property, we have provided a sample letter below. This sample will help you know the format as well as the content that needs to be added to the negotiation letter.
Sample Letter
Date:
Name of the recipient:
Complete address of the recipient
Subject: commercial lease negotiation letter
This letter is being written to express interest in the lease of the commercial property located at (mention the address) on behalf of ABC Company.
We are running a business of garments in different areas of the country and our company needs a commercial land to operate our business in some other localities too. We are mentioning here all the negotiable terms and conditions for you:
The length of the lease will be [TEXT]
Our company will have lease renewal options if we get along with each other.
During the lease, if there is any renovation needed, our company will be responsible for it.
Annual rent of [AMOUNT]$ will be paid in the month of August each year.
We are hopeful that you will consider all the above-mentioned terms and conditions and think over them so that we can find something of mutual interest. You can contact me any time whenever you have any question in your mind.
I am thankful to you for giving your precious time to us and reconsidering the terms mentioned in this letter. We are looking forward to hearing from you.
Thank you.
Regards,
Name of the company,
Sender's name
Designation of the sender in the company
Signatures of the sender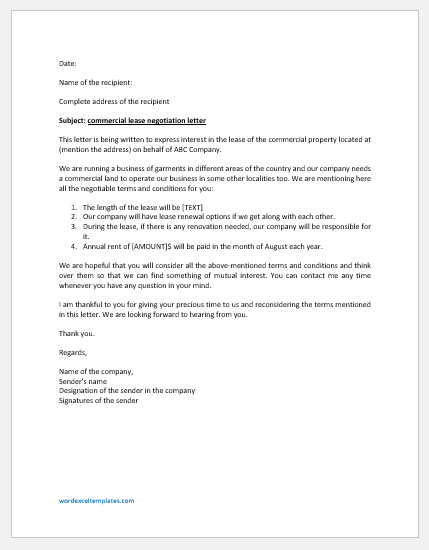 File: Word (.docx) 2007+ and iPad
Size 20 Kb
Download
---