Letter #1
Re. Introducing Our Services of Basic and Spring-Cleaning Packages

Dear Sir/Madam,
This letter has been composed to introduce our business of providing cleaning services to all sectors. We work on formal agreements and contracts with the companies and residential administration. We also provide our services to the local government where they need cleaning services or more workforces for long and short terms depending on the necessity.
We necessitate our working policy with quality services, professional staff, and a strong team built with proper training sessions. Before sending a team for a specific service, we take some time for their training and appropriate grounding and tutoring over professional behaviors and codes of conduct to keep in view.
We keep the professional, dedicated and honest staff that is trained to work according to the needs and requirements of the clients. We train and teach our staff members that how to behave and keep a composed demeanor in times of exigency or possible disruption.
In this age of technology, rush, and hustle we provide our services over one touch. We have launched our app with the name of LYX CLEANS and have also developed and updated our website [NAME]. We keep our customers and clients through the ease and provide the service at the doorstep. We provide the following services in the cleaning section:
Basic Cleaning
Spring Cleaning
Laundry (for residential services only)
We have also launched our new project which is WeClean. This project includes all the cleaning services to the commercial sector at specified and negotiable rates. We connect with our clients through email and text messages. We send our team who analyze your number of floors and the service-needed area and then negotiate the other things related to quality and rates including packages. We provide cheaper rates than the general market rates. We are first to introduce the packages for the cleaning services because we have a mission to keep our customers and clients at ease and let no opportunity go without making good business cooperation possible.
For more details, you can visit our website or call us at +[X]. To enquire about our cleaning packages please dial +[X]. Thank you.
Regards
[LYX] Cleaning Services Providers
23-H Kim Stone Road, New York, New York.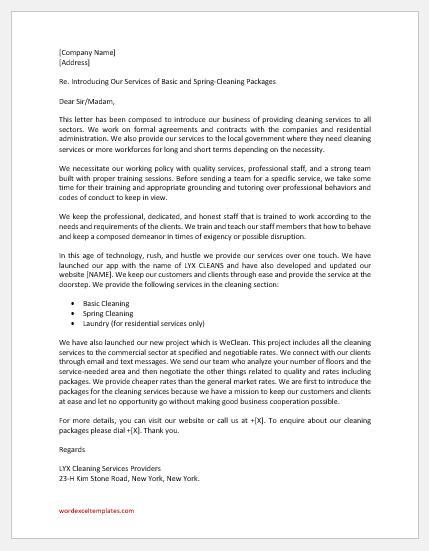 File: Word (.docx) 2007+ and iPad
Size 24 Kb
Download
---
Letter #2
Re. Introducing Cleaning Services Business and Launching Latest Models of Cleaning 
Dear Kim,
Amidst the situation where businesses have been completely shut down or partially shut down or some have been struck by the forceful jolts of COVID-19, we have decided to introduce our new business policies and models which will not only inspire our clients but will force them to choose Q-Plox Services for their ease and peace. We have decided to opt for new business models of cleaning with fresh mindsets of providing complete leisure and facilitate our client with thorough satisfaction.
We have made a few additions to our cleaning modules which include the antiseptic methods of cleaning. We train our team and staff members to make sure the environment clean and tidy but also germs-free and disinfected. We have added sanitizing cleaning to our cleaning packages at very inexpensive and cheaper rates. We can provide you the list of packages and rates (negotiable) on your demand.
We have initiated training sessions and tutoring programs for our staff which has helped them in developing a refined code of conduct, dedication, honesty, and industriousness to their work. We provide cleaning services to residential and commercial sectors. We also keep different section staff and team for different sectors. We deal with corporate, non-corporate, and educational institutes. We have launched our latest packages from fixed to contract-based prices.
Please visit our website [X] or call us at +[X] for other customer services. To have a look at our residential and commercial packages, send <area><area code> <space> <name> to 3030. Thank you.
Regards
Team Q-Plox Services
34-A/2D Denmark Sight Avenue, New York, New York 54000.
File: Word (.docx) 2007+ and iPad
Size 22 Kb
Download
---