1-
Hope you are having a great day. This notice is to inform you about the closing of the office due to Christmas. As you all know well that jovial days are coming so for this reason, we want you to have this time with your loved and closed ones. This announcement is from the head of the company that the company will remain closed for ten days. Do not waste this time and make every minute of it worth living and enjoyable. We have already lost our loved ones due to the pandemic and now the gloomy situation is prevailing around the country. So, cherish the time with your loved ones. You will be informed with a hard copy too as confirmation in the office tomorrow. Make yummy and delicious food, invite your friends and family, renovate your house, and enjoy every bit of Christmas. Hope to see you all after the holiday. Merry Christmas to all of you.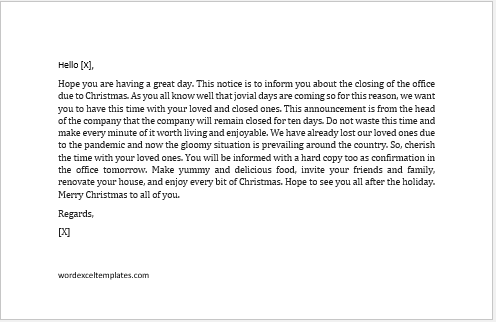 2-
Hercules Company cares for its employees and greets its workers and hope that you are getting this notice in sound health. This notification is to bring to your notice that due to Christmas the company will remain off for fifteen days. Most probably your holidays will start this Monday. You will be guided in case of further leave. You can continue your work after the holidays. No home task or assignment would be assigned to you. So, cherish this time and drive maximum happiness out of it. Spend your holidays with your friends, parents, family, and siblings. Remember others in your happiness too who cannot afford to celebrate Christmas. Make yummy food for your loved ones and make this Christmas the best Christmas. Hope to see you all soon after the holidays. Enjoy the holidays and stay blessed. Thank you.
3-
This message is to notify you of the schedule for Christmas Holidays. It has been designed after keeping in view the viewpoint of all of you. This schedule is going to be beneficial for both the workers and employers. No changes can be made to it now. You can enjoy plenty of time with your parents, family, and friends. We all have suffered a lot due to COVID-19, so please while celebrating Christmas do not forget the precautionary measures. Instead of meeting your relatives, send them Christmas messages and wishes. Stay at home and spend your time with your family.
4-
Hope you are enjoying the best of your time. I am writing this message to bring in your kind notice the news of the Christmas Holidays. On this occasion, the company and all its subbranches shall remain closed for fifteen days. All the indoor and outdoor activities will be closed, and you will not be assigned any home task. As this is a holiday season so everyone will go out to enjoy Christmas. There would be a rush in the parks, gardens, restaurants, and malls. I request all of you to please not go out. Stay safe in your homes and avoid physical contact with other persons. This Christmas will be a little changeable than other Christmas's because we have lost a lot of our dear ones and family friends this year due to Covid-19. So must follow all the necessary measures and keep yourself and others safe.
These holidays will give you plenty of time to cherish with your family. Send Christmas wishes and gifts to your friends. Remember others in your happiness too who cannot afford to celebrate Christmas. Make delicious food for your dear ones and have a great time. Merry Christmas to you from the core of my heart. Stay blessed.
5-
Please note down that [X] company will remain close on Christmas for fifteen days. You will also be informed through hard copy tomorrow. Your holiday period will start on Wednesday and will continue till next fourteen days. The holidays schedule has been set by keeping in view your comfort and ease. No further changes can be made to it. You will also be given a Christmas gift tomorrow at this special event. Enjoy this time with your loved ones and keep them happy. Do not forget to keep others in your prayers. Merry Christmas to all of you. Have a great holiday.