As the holiday season approaches, everyone starts planning meet-up and several other activities that can make their holidays more enjoyable. The Christmas season is all about having fun with your loved ones; visiting different places and doing much more that you wait to do throughout the year.
As the Christmas event approaches, people start thinking to take a break from work so that they can spend time with their friends and family members. In offices, Christmas is celebrated as in other sectors of the society. The bosses generally give a break to all the people working under them so that they can also get some time off the work
What is the Christmas break office memo?
Christmas break memo is a document that is issued by an office to every person working in the office to make the announcement about the upcoming Christmas break. These holiday breaks which are announced through the memo are generally specified in the employment contract, and it is considered as a basic right of the people to get Christmas break.
The memo is used by every organization in order to announce the employees about the Christmas break. The memo is usually written in a professional way.
Why is the memo used for the Christmas break announcement?
The announcement of the Christmas break is important so that everyone can chill in the winter season while staying away from work. Most of the companies use the memo when they want to make this announcement. As a matter of fact, the companies usually find it very convenient to use the memo whenever they have to make any type of announcement.
It is not easy for a company to write emails to different employees individually. Furthermore, sending the email does not confirm whether every employee has received the email or not. So, writing the memo in most of the offices is preferred.
What should be included in the Christmas break office memo?
It has been told earlier, it is very important to write the memo in a professional manner so that it can impart a formal message which is crucial to be maintained especially when you are writing the memo for all the people working in your office. It is important to take all the important details into consideration while you write this memo. The main details that should be included in the memo announcing the Christmas break are
The subject of the memo
Guidelines to be followed for the Christmas break
Starting and ending dates of the Christmas break
Best wishes for happy holidays
Sample Memo
To: All the employees in the office
From: Supervisor of the company
Subject: Memo for Christmas break
We are announcing with excitement that the company has planned to celebrate Christmas with zeal and zest. Therefore, I would like to announce to all of you that there will be a Christmas break on the said dates.
We wish the entire staff of the company the best Christmas break.
Sincerely,
[Name Here]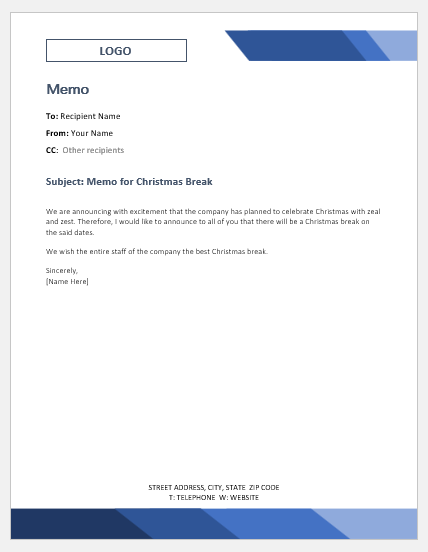 File: Word (.docx) 2007+ and iPad Size 37 Kb |
Download
View more samples –>
---