A bank statement is a document that provides information regarding the transactions carried out by a particular account. Every account has its bank statement. This statement also provides information regarding withdrawals from an account, tax imposed on withdrawal, connected ATM, etc. It also depicts the balance at the starting and ending period of time encompassed by the bank statement.
It is important to note that this statement is only issued by the bank to only the account holder. Even if the account holder needs it, he will have to write the bank statement request letter. A bank finds it very important to use this statement because it keeps its position clear by giving accurate information on credits and debits.
When to write a bank statement request letter?
We come across many situations in our life when we have to show our financial condition. For this purpose, we use the bank statement of our accounts. Below are some scenarios in which using a bank statement is a must:
When you want to apply for a loan, you are required to prove that you have sufficient funds to pay off the loan and you are getting a particular amount of money every month to pay the interest, you will be required to show your bank statement.
When you apply for a visa and you have to show that you hold a particular amount to support yourself when you are in a foreign country, you will ask the bank to provide you with it by writing a request letter.
When you have to prove that the money you have in your account has been earned from legitimate means, your statement of account will tell everything.
Basic guidelines to follow while writing a bank statement request letter:
To write a request letter that communicates your message to people in an appropriate way, you should follow the tips given below:
Use a formal format:
The request letter written to the bank requires you to write it in a proper format. The format should be professional so that the bank can understand what you are trying to say. A formal letter generally includes all the details regarding the bank such as bank name, branch name, branch number, address and contact details of the bank, date of writing the letter, and a suitable salutation. This letter should also not miss the details of the person who needs to have an account statement. In most cases, this person is usually the bank account holder. 
State the purpose:
It is the main responsibility of the account holder to know that why he needs the statement of his account. In general, banks allow the account holders to take the statement document once a month. In that case, they don't ask for the reason. However, when the bank has a policy of not stating without specifying the reason, then you will have to provide the reason.
Give account details:
It is quite understood that the bank will not be able to issue the statement of account unless it obtains enough information regarding that account. Additionally, it is also required by the bank to verify and validate that you are the right person to ask for the statement.
The letter should be concise:
When you write to a bank, you cannot add unnecessary details. Some people don't give unnecessary details but still, they fail to write this letter concisely. If you are also one of them, you will have to struggle to learn how you can stay concise as well as informative at the same time. It is also important to remember that your letter should be clear without any ambiguity.
Mention the period of bank statement:
The bank statement needed for a variety of purposes needs to be of different periods depending on the purpose. For example, a statement needed for a visa application should be for 6 months whereas, the statement needed to get loan approval can be for one year. So, the bank does not know about the period you need the bank statement of. State the period by specifying starting and ending dates.
Sample Letter
Subject: Bank statement request letter
Dear Manager,
I still appreciate the kind cooperation and guidance you showed during the process of my account opening. Now I am seeking your assistance to obtain my bank statement. My name is Anderson, and I am a saving account holder in your bank. I started building my home last month. Unfortunately, I fell short of money and was forced to apply for a personal loan from the bank. Moreover, I am to file an income tax return for the current year. I need my bank statement for these purposes.
To resolve the above-mentioned matters, I am in dire need of a bank account statement. Therefore, I want you to issue me the required documentation so that all the formalities could be fulfilled on time. I appreciate it if you could dispatch it within 24 hours or at your earliest.
I would appreciate it if you could send my bank statement directly to my address registered with you. Amount in lieu of bank account statement may be deducted from my account if required. Please let me know anything else that I am supposed to do in this regard. I am waiting for your nice cooperation.
Sincerely,
Jackson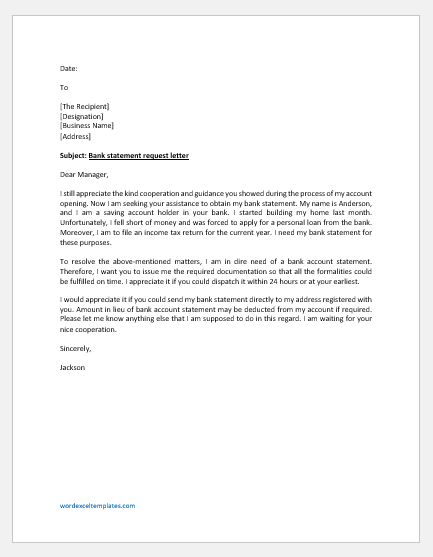 File: Word (.docx) 2007+ and iPad
Size 20 Kb
Download
---