A bakery business introduction letter is a letter, that is written by a business organization, which is new in the market, and wants to introduce itself to the people residing nearby, the probable clients and customers. It is addressed to such a targeted audience, who are potential customers to the new business. In addition to the introduction, this letter can also help in promoting a bakery business. It highlights the main items or products, that are the specialties of the bakery.
This letter is very useful because:
A bakery business may be small, and people may not even know about it. Writing this letter would prove to be fruitful, as it would let the people know about its existence.
As it is an introduction letter, it serves the purpose of an advertising letter as well. The bakery business can market itself to the addressors, and convince them to visit, and try the offerings.
Sometimes, a business may not have the funds to spend on marketing and advertising. As this letter is a cheap marketing tool, it would not cost much to write it, and introduce one's business through it.
It provides a platform for the bakery to give the details of its business and products as well as to highlight and promote its specialties.
A formal introduction letter seems professional, and other organizations may want to give contracts to the bakery business, assuming it would serve them better.
When a bakery business introduction letter is being written, the organization can decide what information it wants to include in it, how best to introduce and market itself, what offers can be enticing, etc. However, generally, the following details are included in such letters:
Details of the addressor.
Details of the addressee.
The introduction of the bakery business, with all the relevant details and offerings.
Experience, if any.
Expertise and competitive edge.
Statements to market and promote the business.
Invitation to try the items.
Special offers, if any.
Seek contracts.
Although the content of this letter is the decision of the bakery owners, usually, it is preferred, that the written letter is concise and short. It should serve the purpose of introduction and promotion, yet the message should be briefly conveyed in sentences that grasp the readers' attention immediately.
Sample Bakery Business Introduction Letter
Dear Mr. David,
I am writing this letter to introduce my small bakery business to you, which I have just started in August 20XX.
I always found my passion in baking, both savories, and sweet items. I took this passion into starting a business and opened a small shop in the ABC locality. I have experience of catering for the get-togethers of friends and family. I am currently offering tea, coffee, cakes, desserts, sandwiches, and other savories. My shop specializes in cakes and lattes, which has become my competitive advantage as well. It is a small setup, has an inside and outside sitting area, that can handle a total of 20 customers at one time. I have gotten it registered as a private limited company as well, and all the legal processes have been completed.
I want to invite you on 5th September 20XX, at 4:00 p.m. for tea at my shop. I would like you to come and try the unique taste I am trying to offer.
I also want to request that if you like the taste and service, please consider my bakery shop for serving refreshments at your organizational meetings and parties in the future.
Looking forward to seeing you. Thank you for your time.
Regards,
Sarah Smith.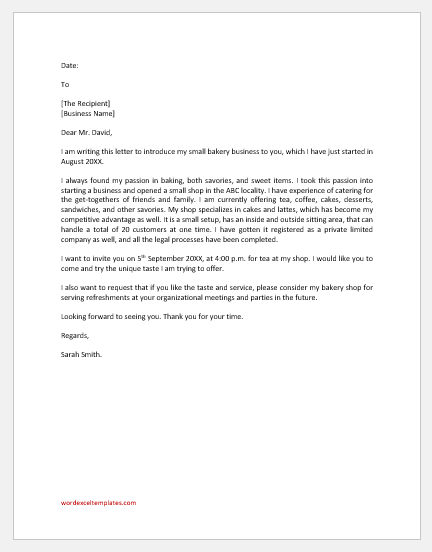 File: Word (.docx) 2007+ and iPad
Size 28 Kb
Download
---